Kali Chalisa is a sacred hymn that reveres and pays homage to the fierce and powerful Hindu goddess, Goddess Kali. As an important devotional text, Kali Chalisa holds immense significance in the hearts and minds of millions of devotees worldwide. Kali Chalisa is a compilation of forty verses composed in the Hindi language. These verses, arranged in poetic form, praise and glorify the attributes, qualities, and divine powers of Goddess Kali. It serves as a means for devotees to connect with the energy and essence of the divine mother, seeking her blessings, protection, and guidance. (See काली चालीसा in hindi)
Kali Chalisa Lyrics in English
॥ Doha ॥
Jaykali Kalimalaharan, Mahima Agam Apar ।
Mahish Mardini Kalika, Dehu Abhay Apar ॥
॥ Chopai ॥
Ari Mad Man Mitavan Hari । Mundamal Gal Sohat Pyari ॥1॥
Ashtabhuji Sukhdayak Mata । Dushtdalan Jag Me Vikhyata ॥2॥
Bhal Vishal Mukut Chhavi Chhajei । Kar Me Shish Shatru Ka Sajei ॥3॥
Dooje Hath Liye Madhu Pyala । Hath Tiisare Sohat Bhala ॥4॥
Chauthe Khappar Khadag Kar Panche । Chhathe Trishul Shatru Bal Janche ॥5॥
Saptam Kar Damakat Asi Pyari । Shobha Adbhut Mat Tumhari ॥6॥
Ashtam Kar Bhaktan Var Data । Jag Manharan Roop Ye Mata ॥7॥
Bhaktan Me Anurakt Bhavani । Nishdin Rate Rishi-Muni Gyani ॥8॥
Mahashakti Ati Prabal Punita । Tu Hi Kali Tu Hi Sita ॥9॥
Patit Tarini He Jag Palak । Kalyani Papi Kul Ghalak ॥10॥
Shesh Suresh Na Pavat Para । Gauri Roop Dharyo Ek Bara ॥11॥
Tum Saman Data Nahi Dooja । Vidhivat Kare Bhaktajan Pooja ॥12॥
Roop Bhayankar Jab Tum Dhara । Dushtadalan Kinhehu Sanhara ॥13॥
Nam Anekan Mat Tumhare । Bhaktajano Ke Sankat Tare ॥14॥
Kali Ke Kasht Kaleshan Harani । Bhav Bhay Mochan Mangal Karani ॥15॥
Mahima Agam Ved Yash Gavei । Narad Sharad Par Na Pavei ॥16॥
Bhoo Par Bhar Badhyau Jab Bhari । Tab Tab Tum Prakati Mahtari ॥17॥
adi Anadi Abhay Varadata । Vishvavidit Bhav Sankat Trata ॥18॥
Kusamay Nam Tumharau Linha । Usako Sada Abhay Var Dinha ॥19॥
Dhyan Dhare Shruti Shesh Suresha । Kal Roop Lakhi Tumaro Bhesha ॥20॥
Kalua Bhairo Sang Tumhare । Ari Hit Roop Bhayanak Dhare ॥21॥
Sevak Langur Rahat Agari । Chauisath Jogan Agyakari ॥22॥
Treta Mein Raghuvar Hit ai । Dashkandhar Ki Sain Nasai ॥23॥
Khela Ran Ka Khel Nirala । Bhara Mans-Majja Se Pyala ॥24॥
Raudra Roop Lakhi Danav Bhage । Kiyau Gavan Bhavan Nij Tyage ॥25॥
Tab Esau Tamas Chadh ayo । Svajan Vijan Ko Bhed Bhulayo ॥26॥
Ye Balak Lakhi Shankar aye । Rah Rok Charanan Me Dhaye ॥27॥
Tab Mukh Jibh Nikar Jo ai । Yahi Roop Prachalit Hai Mai ॥28॥
Badhyo Mahishasur Mad Bhari । Pidit Kiye Sakal Nar-Nari ॥29॥
Karun Pukar Suni Bhaktan Ki । Peer Mitavan Hit Jan-Jan Ki ॥30॥
Tab Pragati Nij Sain Sameta । Nam Pada Ma Mahish Vijeta ॥31॥
Shumbh Nishumbh Hane Chhan Mahi । Tum Sam Jag Doosar Kou Nahi ॥32॥
Man Mathanhari Khal Dal Ke । Sada Sahayak Bhakt Vikal Ke ॥33॥
Deen Vihin Karei Nit Seva । Pavei Manvanchhit Phal Meva ॥34॥
Sankat Me Jo Sumiran Karahi । Unake Kasht Maatu Tum Harahi ॥35॥
Prem Sahit Jo Kirati Gavei । Bhav Bandhan So Mukti Pavei ॥36॥
Kali Chalisa Jo Padhahi । Svarglok Binu Bandhan Chadhahi ॥37॥
Daya Drishti Herau Jagadamba । Kehi Karan Ma Kiyau Vilamba ॥38॥
Karahu Matu Bhaktan Rakhvali । Jayati Jayati Kali Kankali ॥39॥
Sevak Deen Anath Anari । Bhaktibhav Yuti Sharan Tumhari ॥40॥
॥ Doha ॥
Prem Sahit Jo Kare, Kali Chalisa Path ।
Tinaki Pooran Kamana, Hoy Sakal Jag Thath ॥
Kali Chalisa Lyrics in English PDF
Kali Chalisa Lyrics in English Image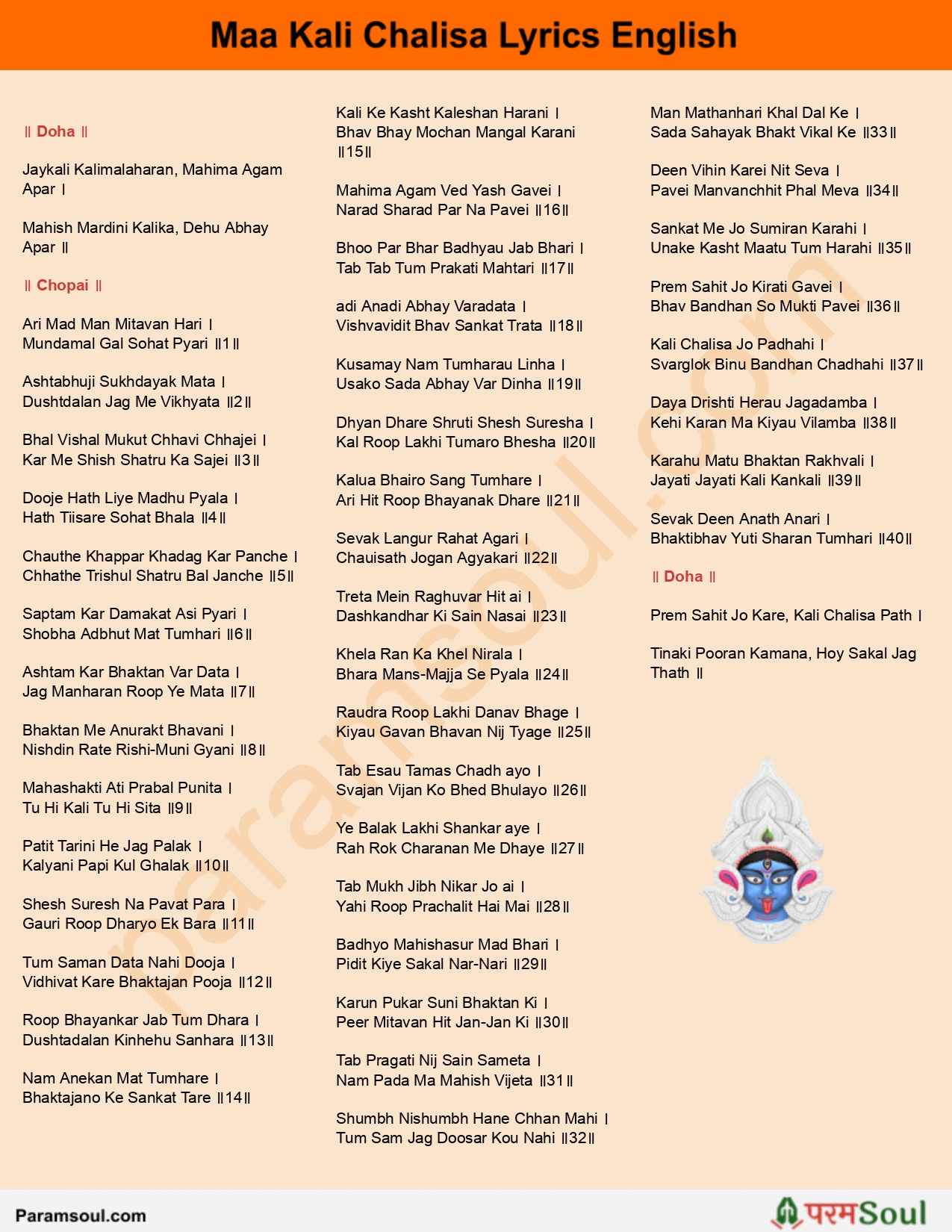 Kali Chalisa Audio-Video
Table of Contents
The Significance of Kali Chalisa
Kali Chalisa holds immense significance in Hindu culture and spirituality. It acts as a medium through which devotees can express their devotion, reverence, and love for Goddess Kali. The recitation of Kali Chalisa is believed to purify the mind, body, and soul, and invoke the blessings of the goddess. It is a powerful tool for seeking spiritual growth, inner strength, and liberation from the cycle of birth and death.
Structure and Verses of Kali Chalisa
Kali Chalisa consists of forty verses written in Awadhi, a dialect of Hindi. Each verse praises the divine attributes of Goddess Kali and captures the essence of her divine energy. The verses are composed in a poetic form, enabling a rhythmic recitation that adds to the spiritual experience. Devotees often recite the Chalisa as part of their daily prayers or during special occasions and festivals dedicated to Goddess Kali.
The Divine Attributes of Goddess Kali
Goddess Kali is revered as the embodiment of feminine power and cosmic energy. She is often depicted with a fierce countenance, adorned with a garland of skulls and holding weapons in her multiple arms. The verses of Kali Chalisa beautifully describe her divine attributes, such as her fearlessness, her ability to annihilate evil forces, her compassion towards devotees, and her role as the destroyer of darkness and ignorance.
Benefits of Reciting Kali Chalisa
Divine Protection: Reciting Kali Chalisa invokes the divine protection of Goddess Kali, shielding devotees from negative energies and evil influences.
Removal of Obstacles: The Chalisa helps to overcome obstacles and challenges in life, clearing the path to success and spiritual growth.
Blessings of Courage: Chanting Kali Chalisa instills courage and fearlessness, empowering individuals to face life's trials with resilience.
Destroying Negativity: The powerful vibrations generated through the recitation of Kali Chalisa help in dispelling negativity and purifying the mind and soul.
Spiritual Awakening: Regular practice of Kali Chalisa deepens spiritual awareness and leads to a profound connection with the divine energy of Goddess Kali.
Symbolism and Mythology of Goddess Kali
Goddess Kali's iconography is rich in symbolism, representing various aspects of her divine nature. The garland of skulls signifies the liberation from the cycle of birth and death, and the sword she wields represents the eradication of ignorance and ego. Kali's tongue protruding from her mouth symbolizes her thirst for the blood of the ego. Her dark complexion represents the infinite void from which all creation emerges.
Devotion and Connection with Kali
Devotees establish a deep connection with Goddess Kali through sincere devotion and surrender. They offer prayers, flowers, incense, and light lamps as a mark of reverence and love. By immersing themselves in Kali's divine energy, devotees experience a sense of protection, guidance, and spiritual transformation.
The Power of Kali Chalisa in Daily Life
Kali Chalisa holds immense power in transforming daily life. Regular recitation of the Chalisa helps in cultivating inner strength, overcoming challenges, and embracing the divine qualities of Goddess Kali. It instills discipline, focus, and a sense of purpose, enabling individuals to navigate through life's complexities with grace and determination.
Conclusion
Kali Chalisa is a powerful devotional hymn that encapsulates the divine attributes and significance of Goddess Kali. Through its verses, devotees honor and seek the blessings of the fierce yet compassionate mother goddess. By regularly reciting Kali Chalisa, individuals can deepen their spiritual connection, find solace in challenging times, and experience the transformative power of the divine.
FAQ's
Is Kali Chalisa only recited by Hindus?
No, Kali Chalisa can be recited by anyone who resonates with the divine energy of Goddess Kali. It transcends religious boundaries and is open to all who seek spiritual growth and connection.
Can I recite Kali Chalisa in a language other than Hindi?
Yes, Kali Chalisa is recited in various languages, including English, Bengali, and Sanskrit. The essence and power of the chalisa remain the same, regardless of the language used.
How often should I recite Kali Chalisa?
The frequency of recitation depends on personal preference and devotion. Some individuals recite it daily, while others do it on specific occasions or during festivals associated with Goddess Kali.
Are there any specific rules or rituals to follow while reciting Kali Chalisa?
While there are no strict rules, it is beneficial to create a serene environment, maintain purity of intention, and recite the chalisa with devotion and focus.
Can Kali Chalisa help in overcoming fear and anxiety?
Yes, the powerful energy of Goddess Kali invoked through the recitation of Kali Chalisa can help individuals find strength, courage, and inner peace, thereby reducing fear and anxiety.