In Hindu mythology, Lord Vishnu holds a significant place as the preserver and protector of the universe. Devotees of Lord Vishnu often recite prayers and hymns to seek His blessings and guidance. One such powerful hymn is the Vishnu Chalisa, a devotional composition consisting of forty verses dedicated to Lord Vishnu. In this article, we will delve into the essence of Vishnu Chalisa, exploring its significance, benefits, and the spiritual connection it offers to its reciters.
॥ Doha ॥
Vishnu Suniye Vinaya,Sevaka Ki Chitalaya।
Kirata Kuchha Varnana Karu, Dijai Gyana Bataya॥
॥ Chopai ॥
Namo Vishnu Bhagawana Kharari । Kashta Nashavana Akhila Bihari ॥1॥
Prabala Jagata Mein Shakti Tumhari । Tribhuvana Phaila Rahi Ujiyari ॥2॥
Sundara Rupa Manohara Surata । Sarala Svabhava Mohini Murata ॥3॥
Tana Para Pitambara Ati Sohata । Baijanti Mala Mana Mohata ॥4॥
Shankha Chakra Kara Gada Biraje । Dekhata Detaye Asura Dala Bhaje ॥5॥
Satya Dharma Mada Lobha Na Gaje । Kama Krodha Mada Lobha Na Chhaje ॥6॥
Santabhakta Sajjana Manaranjana । Danuja Asura Dushtana Dala Ganjana ॥7॥
Sukha Upjaye Kashta Saba Bhanjana । Dhosha Mitaye Karata Jana Sajjana ॥8॥
Papa Kata Bhava Sindhu Utarana । Kashta Nashkara Bhakata Ubarana ॥9॥
Karata Aneka Rupa Prabhu Dharana । Kevala Apa Bhakti Ke Karana ॥10॥
Dharani Dhenu Bana Tumhi Pukara । Taba Tuma Rupa Rama Ka Dhara ॥11॥
Bhara Utara Asura Dala Mara । Ravana Adika Ko Samhara ॥12॥
Apa Varaha Rupa Banaya । Hiranyaksha Ko Mara Giraya ॥13॥
Dhara Matsya Tana Sindhu Banaya । Chaudaha Ratanana Ko Nikalaya ॥14॥
Amilakha Asurana Dwanda Machaya । Rupa Mohini Apa Dikhaya ॥15॥
Devana Ko Amrita Pana Karaya । Asurana Ko Chhabi Se Bahalaya ॥16॥
Kurma Rupa Dhara Sindhu Majhaya । Mandrachala Giri Turata Uthaya ॥17॥
Shankara Ka Tuma Phanda Chudaya । Bhasmasura Ko Rupa Dikhaya ॥18॥
Vedana Ko Jaba Asura Dubaya । Kara Prabandha Unhe Dhundhawaya ॥19॥
Mohita Bankara Khalahi Nachaya । Usahi Kara Se Bhasma Karaya ॥20॥
Asura Jalandhara Ati Baladayi । Shankara Se Una Kinha Ladayi ॥21॥
Hara Para Shiva Sakala Banaye । Kina Sati Se Chala Khala Jayi ॥22॥
Sumirana Kina Tumhe Shivarani । Batalayi Saba Vipata Kahani ॥23॥
Taba Tuma Bane Munishwara Gyani । Vrinda Ki Saba Surati Bhulani ॥24॥
Dekhata Tina Danuja Shaitani । Vrinda Aya Tumhein Laptani ॥25॥
Ho Sparsha Dharma Kshati Mani । Hana Asura Ura Shiva Shaitani ॥26॥
Tumane Dhruru Prahalada Ubare । Hiranakusha Adika Khala Mare ॥27॥
Ganika Aur Ajamila Tare । Bahuta Bhakta Bhava Sindhu Utare ॥28॥
Harahu Sakala Santapa Hamare । Kripa Karahu Kari Sirajana Hare ॥29॥
Dekhahun Main Nija Darasha Tumhare । Dina Bandhu Bhaktana Hitkare ॥30॥
Chahata Apka Sevaka Darshana । Karahu Daya Apni Madhusudana ॥31॥
Janu Nahi Yogya Japa Pujana । Hoye Yajna Shtuti Anumodana ॥32॥
Shiladaya Santosha Sulakshana । Vidita Nahi Vratabodha Vilakshana ॥33॥
Karahu Apka Kisa Vidhi Pujana । Kumati Viloka Hota Dukha Bhishana ॥34॥
Karahu Pranama Kauna Vidhisumirana । Kauna Bhanti Main Karahu Samarpana ॥35॥
Sura Muni Karata Sada Sivakai । Harshita Rahata Parama Gati Payi ॥36॥
Dina Dukhina Para Sada Sahai । Nija Jana Jana Leva Apanayi ॥37॥
Papa Dosha Santapa Nashao । Bhava Bandhana Se Mukta Karao ॥38॥
Suta Sampati De Sukha Upjao । Nija Charanana Ka Dasa Banao ॥39॥
Nigama Sada Ye Vinaya Sunavai । Padhai Sunai So Jana Sukha Pavai ॥40॥
॥ Doha ॥
bhakt hṛday men vaas karen puurṇ kiijiye kaaj ।
shankh chakr owr gadaa padm he vishṇu mahaaraaj ॥
Vishnu Chalisa Lyrics PDF
Vishnu Chalisa Lyrics Image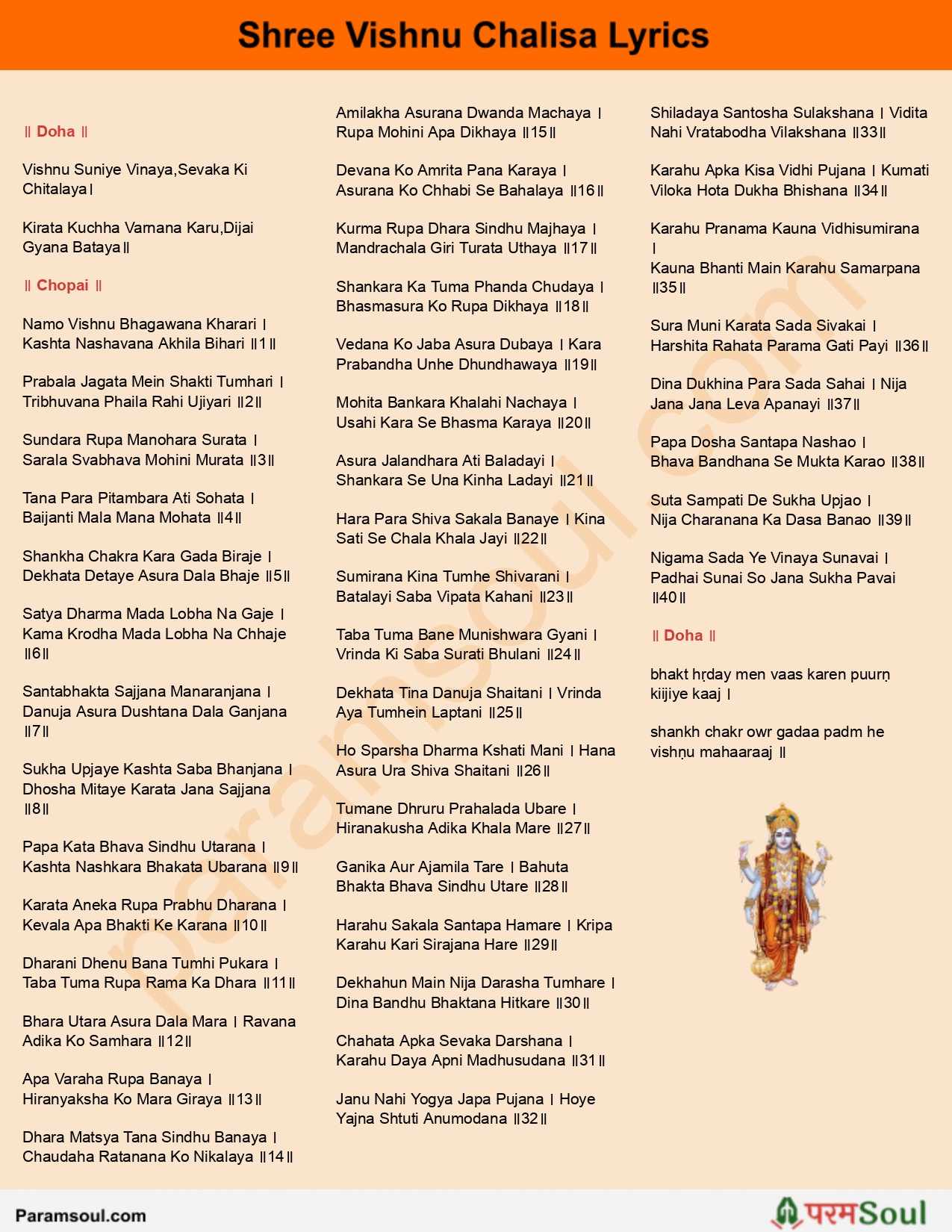 Vishnu Chalisa Audio-Video
Table of Contents
The Significance of Vishnu Chalisa
Vishnu Chalisa holds immense significance for devotees of Lord Vishnu. The word "Chalisa" means forty, representing the forty verses present in this hymn. It serves as a medium for devotees to express their love, devotion, and reverence towards Lord Vishnu. The recitation of Vishnu Chalisa is believed to bring peace, prosperity, and spiritual upliftment to the practitioner's life.
Understanding Lord Vishnu
Lord Vishnu is not just a static deity; he is a master of transformation. He assumes various incarnations, or avatars, to walk among mortals and guide them towards righteousness. Two of his most famous avatars are Lord Rama and Lord Krishna, both of whom have left an indelible mark on Hindu mythology and history.
The Power of Devotional Chants
Devotional chants, such as Vishnu Chalisa, have a profound impact on the mind, body, and soul. The rhythmic recitation of the hymn creates a harmonious vibration, which helps in aligning one's energies with the divine. These chants have a calming effect on the mind and can aid in reducing stress and anxiety, bringing about a sense of inner peace and tranquility.
The Structure of Vishnu Chalisa
Vishnu Chalisa is structured in forty verses, each composed in a rhythmic pattern. The verses praise the virtues, qualities, and divine attributes of Lord Vishnu. They highlight His role as the protector of righteousness, the bestower of blessings, and the ultimate source of cosmic harmony. The hymn beautifully encapsulates the essence of Lord Vishnu's teachings and His eternal presence.
The Benefits of Reciting Vishnu Chalisa
Reciting Vishnu Chalisa regularly can bestow numerous benefits upon the devotee. It is believed to purify the mind, eliminate negative energies, and promote spiritual growth. The hymn acts as a shield against negativity and instills a sense of divine protection. Reciters often experience a deep connection with Lord Vishnu, gaining clarity, strength, and guidance in their lives.
How to Recite Vishnu Chalisa
To recite Vishnu Chalisa, one should find a peaceful and clean environment. Devotees often light incense sticks or a lamp as an offering to Lord Vishnu. With utmost devotion and reverence, the hymn is chanted or sung, focusing on the meaning and significance of each verse. Regular practice of Vishnu Chalisa deepens the spiritual connection and amplifies its transformative power.
Experiencing the Spiritual Connection
When reciting Vishnu Chalisa, devotees often experience a profound spiritual connection with Lord Vishnu. It is not merely the act of reciting, but the intent, devotion, and surrender that create a sacred space within the heart. This connection allows individuals to seek divine guidance, find solace during challenging times, and experience a sense of oneness with the cosmic energy.
Vishnu Chalisa and Its Cultural Impact
Vishnu Chalisa has had a significant impact on Hindu culture and traditions. It is often recited during religious ceremonies, festivals, and auspicious occasions dedicated to Lord Vishnu. The hymn has been passed down through generations, fostering a sense of spiritual heritage and promoting devotion towards Lord Vishnu.
The Influence of Vishnu Chalisa in Daily Life
Beyond its religious and cultural significance, Vishnu Chalisa offers practical guidance for daily life. The hymn emphasizes the importance of virtues such as compassion, truth, and righteousness. By imbibing these qualities, individuals can lead a life filled with positivity, harmony, and spiritual growth.
Exploring Similar Hymns and Prayers
Vishnu Chalisa is part of a rich tradition of devotional hymns and prayers dedicated to different deities in Hinduism. Exploring similar compositions, such as Hanuman Chalisa, Durga Chalisa, and Shiv Chalisa, allows devotees to deepen their understanding of various divine energies and their manifestations. These hymns offer a diverse spiritual landscape for seekers to explore and connect with.
The Universal Appeal of Vishnu Chalisa
Vishnu Chalisa transcends religious boundaries and appeals to individuals seeking spiritual nourishment. Its universal themes of love, devotion, and divine grace resonate with people from various cultural backgrounds. Regardless of one's religious beliefs, reciting Vishnu Chalisa with a sincere heart can awaken the dormant spiritual essence within and foster a sense of interconnectedness with the divine.
The Evolution of Vishnu Chalisa
Vishnu Chalisa has evolved over centuries, with different poets and spiritual masters contributing to its growth. The hymn has been passed down through oral traditions and later recorded in written form. Each rendition carries the essence of devotion and captures the timeless teachings of Lord Vishnu.
The Role of Vishnu Chalisa in Festivals and Ceremonies
During festivals like Janmashtami, Rama Navami, and Vishnu Jayanti, devotees come together to recite Vishnu Chalisa as part of the celebrations. The hymn serves as a unifying force, connecting people through their shared devotion and love for Lord Vishnu. It creates an atmosphere of joy, spirituality, and collective prayer.
Conclusion
Vishnu Chalisa stands as a powerful devotional hymn, invoking the blessings and grace of Lord Vishnu. Its rhythmic verses and profound meaning have captivated the hearts of devotees for centuries. Regular recitation of Vishnu Chalisa can bring about spiritual transformation, inner peace, and a deep connection with the divine.
FAQ's
Can anyone recite Vishnu Chalisa?
Yes, anyone can recite Vishnu Chalisa regardless of their age, gender, or religious background. It is open to all who seek the blessings of Lord Vishnu.
How often should one recite Vishnu Chalisa?
There is no specific frequency set for reciting Vishnu Chalisa. It can be recited daily, weekly, or on special occasions, depending on personal devotion and time availability.
Does reciting Vishnu Chalisa have any specific benefits?
Reciting Vishnu Chalisa can bring peace of mind, spiritual growth, and divine protection. It helps in purifying the soul and cultivating virtues such as love, compassion, and righteousness.
Are there any rituals associated with reciting Vishnu Chalisa?
While there are no mandatory rituals, some devotees prefer to light incense sticks, offer flowers, or light a lamp as a symbolic gesture of devotion and respect.
Can Vishnu Chalisa be recited in any language?
Yes, Vishnu Chalisa can be recited in any language that the devotee is comfortable with. The essence and power of the hymn remain intact regardless of the language used.