In the realm of Hinduism, Gayatri Chalisa holds a significant place as a devotional hymn dedicated to Goddess Gayatri. Composed of forty verses, Gayatri Chalisa serves as a powerful prayer that encapsulates the essence of devotion, spiritual awakening, and divine blessings. This article delves into the profound meaning and significance of Gayatri Chalisa, exploring its origins, structure, and the transformative power it holds for devotees. (See Gayatri Chalisa in Hindi)
Shri Gayatri Chalisa Lyrics in English
॥ Doha ॥
Heen Shreen, Kleen, Medha, Prabha, Jeevan Jyoti Prachand ।
Shaanti, Kraanti, Jaagrti, Pragati, Rachana Shakti Akhand ॥
Jagat Janani, Mangal Karani, Gayatri Sukhadhaam ।
Pranavon Saavitree, Svadha, Svaaha Pooran Kaam ॥
॥ Chopai ॥
Bhoorbhuvah Svah Om Yut Jananee ।
Gayatri Nit Kalimal Dahanee ॥1॥
Akshar Chaubis Param Puneeta ।
Inamen Basen Shaastr, Shruti, Geeta ॥2॥
Shaashvat Satogunee Satarupa ।
Saty Sanaatan Sudha Anoopa ॥3॥
Hansaarudh Shvetaambar Dhaaree ।
Svarnakaanti Shuchi Gagan Bihaaree ॥4॥
Pustak Pushp Kamandalu Maala ।
Shubhr Varn Tanu Nayan Vishaala ॥5॥
Dhyaan Dharat Pulakit Hiy Hoee ।
Sukh Upajat, Duhkh Duramati Khoee ॥6॥
Kaamadhenu Tum Sur Taru Chhaaya ।
Niraakaar Kee Adabhut Maaya ॥7॥
Tumharee Sharan Gahai Jo Koee ।
Tarai Sakal Sankat Son Soee ॥8॥
Sarasvatee Lakshmee Tum Kaalee ।
Dipai Tumhaaree Jyoti Niraalee ॥9॥
Tumharee Mahima Paaran Paaven ।
Jo Shaarad Shat Mukh Gun Gaaven ॥10॥
Chaar Ved Kee Maatu Puneeta ।
Tum Brahamaanee Gauree Seeta ॥11॥
Mahaamantr Jitane Jag Maaheen ।
Kooo Gayatri Sam Naaheen ॥12॥
Sumirat Hiy Mein Gyaan Prakaasai ।
Aalas Paap Avidya Naasai ॥13॥
Srshti Beej Jag Janani Bhavaanee ।
Kaal Raatri Varada Kalyaanee ॥14॥
Brahama Vishnu Rudr Sur Jete ।
Tum Son Paaven Surata Tete ॥15॥
Tum Bhaktan Kee Bhakt Tumhaare ।
Jananihin Putr Praan Te Pyaare ॥16॥
Mahima Aparampaar Tumhaaree ।
Jai Jai Jai Tripada Bhay Haaree ॥17॥
Poorit Sakal Gyaan Vigyaana ।
Tum Sam Adhik Na Jag Mein Aana ॥18॥
Tumahin Jaani Kachhu Rahai Na Shesha ।
Tumahin Paay Kachhu Rahai Na Klesha ॥19॥
Jaanat Tumahin, Tumahin Hai Jaee ।
Paaras Parasi Kudhaatu Suhaee ॥20॥
Tumharee Shakti Dipai Sab Thaee ।
Maata Tum Sab Thaur Samaee ॥21॥
Grah Nakshatr Brahamaand Ghanere ।
Sab Gativaan Tumhaare Prere ॥22॥
Sakalasrshti Kee Praan Vidhaata ।
Paalak Poshak Naashak Traata ॥23॥
Maateshvaree Daya Vrat Dhaaree ।
Tum San Tare Patakee Bhaaree ॥24॥
Jaapar Krpa Tumhaaree Hoee ।
Taapar Krpa Karen Sab Koee ॥25॥
Mand Budghi Te Budhi Bal Paaven ।
Rogee Rog Rahit Hai Jaaven ॥26॥
Daarid Mitai Katai Sab Peera ।
Naashai Duhkh Harai Bhav Bheera ॥27॥
Grh Kalesh Chit Chinta Bhaaree ।
Naasai Gayatri Bhay Haaree ॥28॥
Santiti Heen Susantati Paaven ।
Sukh Sampatti Yut Mod Manaaven ॥29॥
Bhoot Pishaach Sabai Bhay Khaaven ।
Yam Ke Doot Nikat Nahin Aaven ॥30॥
Jo Sadhava Sumiren Chit Laee ।
Achhat Suhaag Sada Sukhadaee ॥31॥
Ghar Var Sukh Prad Lahain Kumaaree ।
Vidhava Rahen Saty Vrat Dhaaree ॥32॥
Jayati Jayati Jagadamb Bhavaanee ।
Tum Sam Aur Dayaalu Na Daanee ॥33॥
Jo Sadaguru Son Deeksha Paaven ।
So Saadhan Ko Saphal Banaaven ॥34॥
Sumiran Karen Suruchi Badabhaagee ।
Lahain Manorath Grhee Viraagee ॥35॥
Asht Sidghi Navanidhi Kee Daata ।
Sab Samarth Gayatri Maata ॥36॥
Rshi, Muni, Yatee, Tapasvee, Jogee ।
Aarat, Arthee, Chintit, Bhogee ॥37॥
Jo Jo Sharan Tumhaaree Aaven ।
So So Man Vaanchhit Phal Paaven ॥38॥
Bal, Budghi, Vigha, Sheel Svabhaoo ।
Dhan Vaibhav Yash Tej Uchhaoo ॥39॥
Sakal Badhen Upaje Sukh Naana ।
Jo Yah Paath Karai Dhari Dhyaana ॥40॥
॥ Doha ॥
Yah Chalisa Bhaktiyut, Paath Kare Jo Koy ।
Taapar Krpa Prasannata, Gayatri Kee Hoy ॥
Gayatri Chalisa Lyrics PDF
Gayatri Chalisa Lyrics Image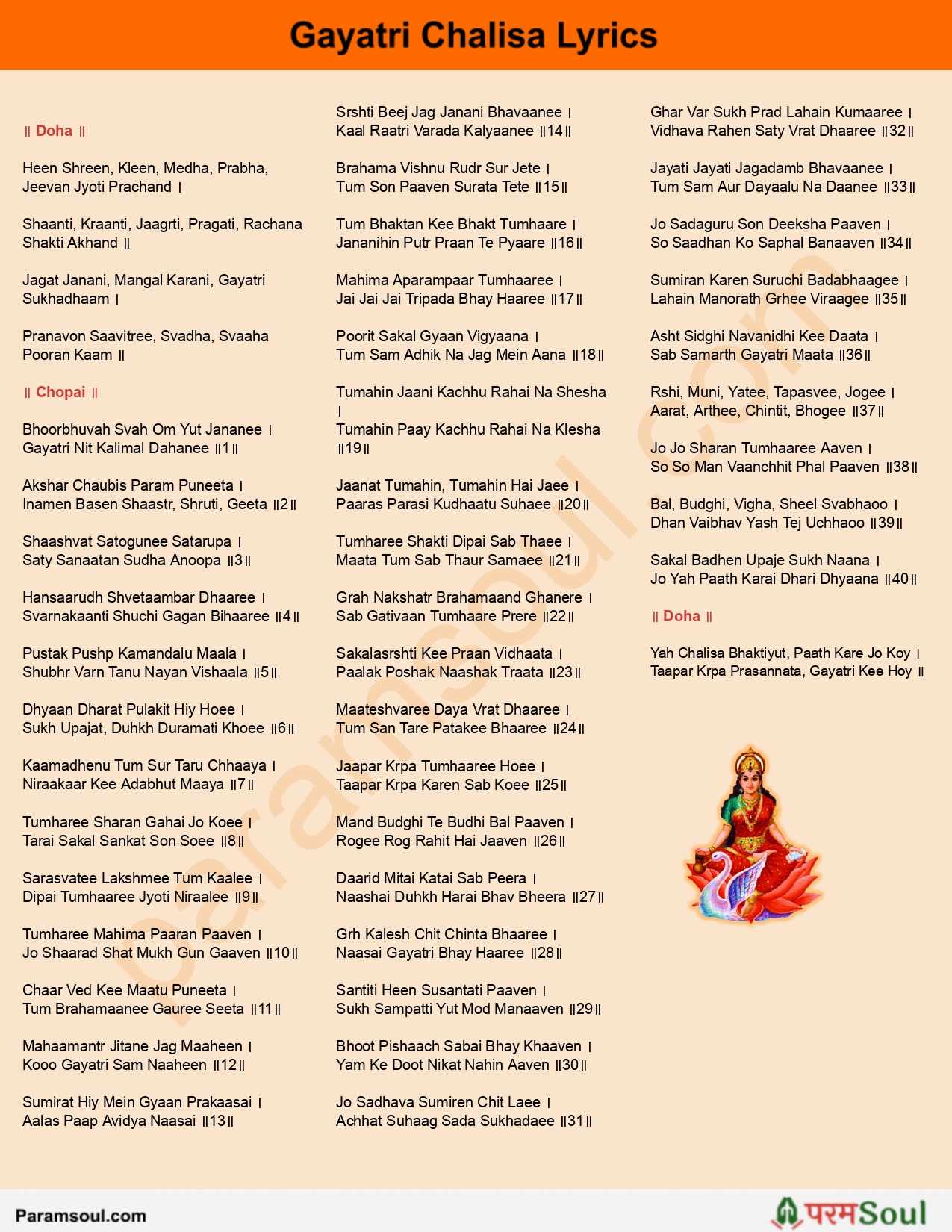 Gayatri Chalisa Audio-Video
Table of Contents
The Origin and Significance of Gayatri Chalisa
Gayatri Chalisa originated from the ancient scriptures of Hinduism and holds immense significance among devotees. It is believed to have been composed by Sage Vishwamitra, one of the revered sages in Indian mythology. The hymn glorifies Goddess Gayatri, the embodiment of divine light, wisdom, and spirituality.
Understanding the Structure and Verses
Gayatri Chalisa is structured in forty verses, each encompassing profound wisdom and devotion. The chalisa follows a rhythmic pattern and is composed in Hindi language, enabling devotees to recite it with ease and reverence.
Unveiling the Mantras and Their Symbolism
Every verse of Gayatri Chalisa is infused with powerful mantras that hold deep symbolic meaning. The mantras invoke the blessings of Goddess Gayatri and serve as a pathway to connect with the divine energy of creation, preservation, and destruction.
The Spiritual Power of Chanting Gayatri Chalisa
Chanting this with utmost devotion and sincerity opens up a channel of spiritual energy within the devotee. The vibrations created by the rhythmic recitation of the chalisa purify the mind, elevate consciousness, and bring inner peace and tranquility.
Gayatri Chalisa in Daily Practice
Incorporating the recitation of Gayatri Chalisa in daily spiritual practice enhances one's connection with the divine. Devotees often chant the chalisa during morning and evening rituals, embracing its uplifting energy and seeking spiritual guidance in their lives.
The Impact of Gayatri Chalisa on the Mind and Spirit
Gayatri Chalisa acts as a spiritual tonic, rejuvenating the mind and nurturing the spirit. It aids in focusing the mind, reducing stress, and cultivating a sense of clarity and purpose. Regular recitation instills a deep sense of devotion and instigates positive transformations in the lives of devotees.
Experiencing the Divine Grace through Gayatri Chalisa
Devotees who wholeheartedly engage in the recitation of Gayatri Chalisa often experience the divine grace of Goddess Gayatri. This grace brings blessings, protection, and spiritual enlightenment, guiding individuals on their path towards self-realization and higher consciousness.
Connection to Vedic Tradition
Gayatri Chalisa is intricately linked to the Vedic tradition, which emphasizes the pursuit of knowledge, wisdom, and spiritual enlightenment. The hymn pays homage to Goddess Gayatri, who symbolizes the divine essence present within the sacred Vedic texts.
The Universal Appeal
Although deeply rooted in Hindu philosophy, Gayatri Chalisa transcends religious boundaries and resonates with individuals seeking spiritual growth and awakening. Its universal appeal lies in its ability to unite people from diverse backgrounds in their shared pursuit of divine grace and inner harmony.
How Gayatri Chalisa Inspires Devotees Worldwide
Gayatri Chalisa serves as a wellspring of inspiration for countless devotees worldwide. Through its verses, devotees find solace, strength, and guidance during challenging times. The chalisa instills faith, encourages self-reflection, and kindles a deep connection with the divine.
Exploring the Benefits of Regular Chanting
Regular chanting of Gayatri Chalisa offers a multitude of benefits for devotees. It purifies the aura, harmonizes the chakras, and promotes overall well-being. The practice also fosters gratitude, compassion, and a sense of interconnectedness with all beings.
Gayatri Chalisa and Meditation: A Pathway to Inner Peace
Combining the recitation of Gayatri Chalisa with meditation amplifies its transformative power. Meditating on the divine qualities of Goddess Gayatri enhances concentration, deepens spiritual experiences, and facilitates the attainment of inner peace and serenity.
Overcoming Obstacles with the Power of Gayatri Chalisa
Gayatri Chalisa is revered for its ability to remove obstacles and negate negative influences. Devotees often turn to the chalisa during challenging times, seeking divine intervention and invoking the strength to overcome hurdles on their life's journey.
Gayatri Chalisa: A Beacon of Light in the Darkness
In moments of darkness and despair, Gayatri Chalisa serves as a guiding light, illuminating the path towards spiritual awakening and self-discovery. Its verses infuse devotees with hope, courage, and the unwavering belief in the ultimate triumph of light over darkness.
The Legacy of Gayatri Chalisa: Spreading Divine Love and Harmony
Throughout centuries, Gayatri Chalisa has left an indelible mark on the hearts and minds of devotees. Its timeless wisdom and the devotion it inspires continue to transcend generations, fostering love, harmony, and unity among individuals on their spiritual quest.
Conclusion
Gayatri Chalisa stands as a testament to the power of devotion and the eternal pursuit of divine grace. Its profound verses, when recited with sincerity and reverence, have the potential to ignite spiritual transformation, foster inner peace, and establish a deep connection with the divine. As devotees embark on their journey of reciting Gayatri Chalisa, they embrace the sacred hymn's ability to uplift, guide, and envelop them in the loving embrace of Goddess Gayatri.
FAQ's
What is Gayatri Chalisa?
Gayatri Chalisa is a devotional hymn dedicated to Goddess Gayatri, composed of forty verses that capture the essence of devotion and spiritual awakening.
Who composed Gayatri Chalisa?
Gayatri Chalisa is believed to have been composed by Sage Vishwamitra, a revered sage in Hindu mythology.
What are the benefits of reciting Gayatri Chalisa?
Regular recitation of Gayatri Chalisa purifies the mind, cultivates inner peace, and invokes divine blessings. It also helps overcome obstacles and nurtures spiritual growth.
Can people from different religions recite Gayatri Chalisa?
Yes, Gayatri Chalisa transcends religious boundaries and resonates with individuals seeking spiritual growth and enlightenment, irrespective of their religious background.
How does Gayatri Chalisa inspire devotees?
Gayatri Chalisa serves as a source of inspiration, offering solace, strength, and guidance. Its verses instill faith, encourage self-reflection, and deepen the connection with the divine.