Ram Chalisa, a devotional hymn, is a powerful tool for invoking the blessings and divine grace of Lord Rama. It is composed of forty verses, or "chalisa," that encapsulate the divine qualities, exploits, and teachings of Lord Rama.
Ran Chalisa : View Lyrics | Download PDF | Lyrics Image | Listen Audio/Video music
Ram Chalisa Lyrics in English
॥ Chopai ॥
Shri Raghubir bhagat hitkari। suni lije prabhu araj hamari ॥1॥
Nisidin dhyan dhare jo koi। ta sam bhakt aur nahi hoi ॥2॥
Dhyan dhare shivji man mahi। brahma indra par nahi pahi ॥3॥
Jai jai jai raghunath kripala। sada karo santan pratipala ॥4॥
Doot tumhar veer hanumana। jasu prabhav tihu pur jana ॥5॥
Tuv bhujdand prachand kripala। ravan mari suarn pratipala ॥6॥
Tum anath ke nath gosai। deenan ke ho sada sahai ॥7॥
Bramhadik tav par na paven। sada eesh tumharo yash gave ॥8॥
Chariu ved bharat hai sakhi। tum bhaktan ki lajja rakhi ॥9॥
Gun gavat sharad man mahi। surpati tako par na pahi ॥10॥
Nam tumhare let jo koi। ta sam dhanya aur nahi hoi ॥11॥
Ram naam hai aparampara। charin ved jahi pukara ॥12॥
Ganpati naam tumharo linho। tinko pratham pujya tum kinho ॥13॥
Shesh ratat nit naam tumhara। mahi ko bhar shish par dhara ॥14॥
Phool saman rahat so bhara। pavat kou na tumharo para ॥15॥
Bharat naam tumharo ur dharo। taso kabahu na ran mein haro ॥16॥
Naam shatrugna hridaya prakasha। sumirat hot shatru kar nasha ॥17॥
Lakhan tumhare agyakari। sada karat santan rakhwari ॥18॥
Tate ran jeete nahi koi। yuddh jure yamahu kin hoi ॥19॥
Mahalakshmi dhar avtara। sab vidhi karat paap ko chhara ॥20॥
Seeta ram puneeta gayo। bhuvaneshwari prabhav dikhayo ॥21॥
Ghat sp prakat bhai so aai। jako dehkat chand lajai ॥22॥
So tumhare nit paon palotat। navo nidhi charanan mein lotat ॥23॥
Siddhi atharah mangalkari। so tum par jave balihari ॥24॥
Aurahu jo anek prabhutai। so seetapati tumahi banai ॥25॥
Ichchha te kotin sansara। rachat na lagat pal ki bhara ॥26॥
Jo tumhare charanan chit lave। taki mukti avasi ho jave ॥27॥
Sunahu ram tum tat hamare। tumahi bharat kul poojya prachare ॥28॥
Tumahi dev kul dev hamare। tum gurudev pran ke pyare ॥29॥
Jo kuch ho so tumhahi raja। jai jai jai prabhu rakho laja ॥30॥
Ram atma poshan hare। jai jai jai dasrath ke pyare ॥31॥
Jai jai jai prabhu jyoti swarupa। nirgun brahma akhand anoopa ॥32॥
Satya satya jai satyavrat swami। satya sanatan antaryami ॥33॥
Satya bhajan tumharo jo gave। So nischay charon phal pave ॥34॥
Satya sapath gauripati kinhi। tumne bhaktahi sab siddhi dinhi ॥35॥
Gyan hridaya do gyanswarupa। namo namo jai jagpati bhoopa ॥36॥
Dhanya dhanya tum dhanya pratapa। naam tumhar harat sntapa ॥37॥
Satya shudh deva mukh gaya। baji dundubhi shankh bajaya ॥38॥
Satya satya tum satya sanatan। tumahi ho hamare tan man dhan ॥39॥
Yako path kare jo koi। gyan prakat take ur hoi ॥40॥
Avagaman mitai tihi kera। satya vachan mane shiv mera ॥41॥
Aur aas man mein jo hoi। manvanchit phal pave soi ॥42॥
Teenahu kal dhyan jo lave। tulsidas anu phool chadhave ॥43॥
Saag patra so bhog lagave। so nar sakal siddhata pave ॥44॥
Aant samay raghubarpur jai। jaha janma haribhakta kai ॥45॥
Shri haridas kahai aru gave। so vaikunth dham ko pave ॥46॥
॥ Doha ॥
Saat divas jo nem kar। path kare chit laye ॥
Haridas harikripa se। avasi bhakti ko pave ॥
Ram chalisa jo padhe। ram sharan chit laye ॥
Ram Chalisa Lyrics in English PDF
Ram Chalisa Lyrics in English Image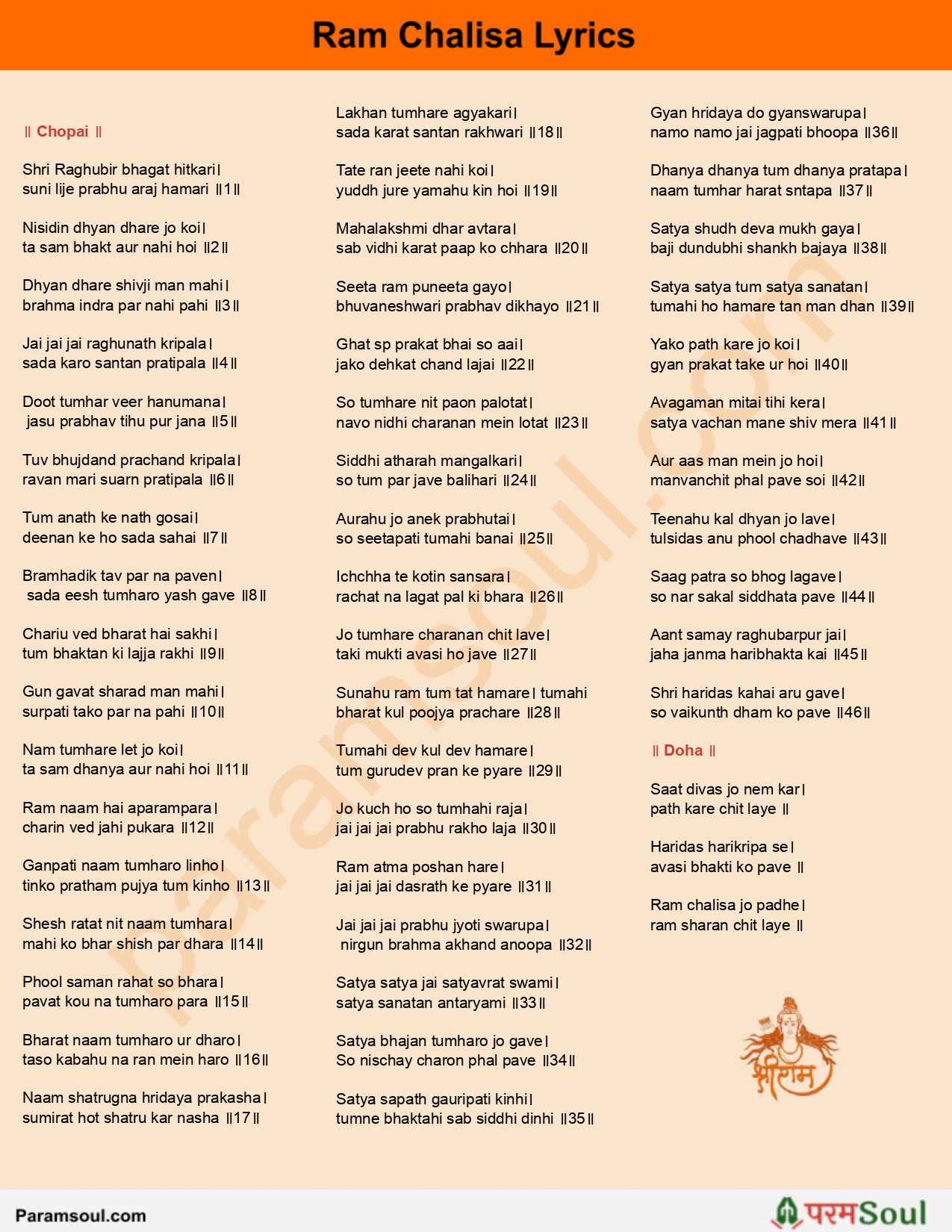 Sri Ram Chalisa Audio-Video
Table of Contents
Understanding the Essence of Ram Chalisa
Ram Chalisa is a poetic composition that extols the virtues, heroism, and divine qualities of Lord Rama. It serves as a medium for devotees to express their devotion, seek blessings, and establish a deep spiritual connection with the Lord. The verses of poem are imbued with profound meaning, encompassing the life and teachings of Lord Rama.
The Significance of Chanting Ram Chalisa
Chanting Ram Chalisa holds immense significance for devotees. It is believed that reciting the chalisa invokes the blessings of Lord Rama, granting protection, guidance, and fulfillment of desires. The regular practice of Ram Chalisa helps in purifying the mind, uplifting the spirit, and fostering a sense of inner peace and harmony.
How to chant Ram Chalisa
To chant Ram Chalisa effectively, follow these steps:
Creating a Sacred Space
Find a clean and serene space for chanting Ram Chalisa. Decorate it with flowers, incense, and an image or idol of Lord Rama.
Chanting with Devotion and Focus
Sit in a comfortable posture, close your eyes, and focus your mind on Lord Rama. Chant each verse of Ram Chalisa with utmost devotion and concentration.
Frequency and Duration of Chanting
For optimal results, chant at least once a day. You can increase the frequency according to your preference. The duration of the practice may vary, but it is recommended to devote a few minutes to each chanting session.
Understanding the Meaning of the Verses
While chanting Ram Chalisa, try to understand the meaning behind each verse. This deepens your connection with the prayer and allows you to internalize its teachings.
Reflecting on Lord Rama's Teachings
After chanting Ram Chalisa, take a few moments to reflect on Lord Rama's teachings and how they can be applied in your life. This practice enhances personal growth and spiritual development.
Benefits of Reciting Ram Chalisa
The recitation of Ram Chalisa brings forth numerous spiritual benefits for devotees. Some of these include:
Spiritual Upliftment and Inner Peace
Chanting helps in purifying the mind, elevating consciousness, and experiencing inner peace. It fosters a deep sense of connection with the divine and promotes spiritual growth.
Protection from Evil Forces
Reciting Ram Chalisa is believed to provide protection from negative energies and evil forces. It creates a shield of divine grace around the devotee, safeguarding them from harm.
Fulfillment of Desires and Wishes
Devotees often seek the blessings of Lord Rama through Ram Chalisa for the fulfillment of their desires and wishes. It is believed that sincere and dedicated chanting can help manifest positive outcomes in life.
Strengthening of Faith and Devotion
Regular practice of Ram Chalisa strengthens one's faith and devotion towards Lord Rama. It deepens the bond between the devotee and the deity, fostering a loving and trusting relationship.
Conclusion
Ram Chalisa is a powerful prayer that encapsulates the divine qualities and exploits of Lord Rama. By chanting the chalisa with utmost devotion, devotees can experience spiritual upliftment, divine protection, and fulfillment of desires. Embrace the chanting of this to embark on a transformative journey towards self-discovery and inner bliss.
FAQs (Frequently Asked Questions)
Can anyone chant Ram Chalisa?
Yes, anyone can chant irrespective of their age, gender, or background. It is open to all individuals seeking spiritual connection and blessings from Lord Rama.
Can Ram Chalisa be chanted in any language?
While Ram Chalisa is traditionally recited in the Awadhi language, it can be chanted in any language that is comfortable for the devotee. The intention and devotion behind the chanting hold greater significance.
Are there any specific times to recite Ram Chalisa?
There are no strict rules regarding the timing of reciting Ram Chalisa. However, it is beneficial to establish a consistent practice and choose a time that is conducive to concentration and devotion.
Is it necessary to memorise the entire Ram Chalisa?
While memorising the entire Ram Chalisa can be beneficial, it is not necessary. You can refer to the text or a prayer book while chanting until you become familiar with the verses.
How long does it take to see the benefits of chanting Ram Chalisa?
The benefits of chanting Ram Chalisa may vary from person to person. Some devotees may experience immediate results, while for others, it may take time. Consistency, devotion, and faith are key in realising the positive effects.