Lord Ganesha, also known as Vinayaka or Ganapati, is one of the most revered deities in Hinduism. As the remover of obstacles and the lord of new beginnings, he holds a special place in the hearts of millions of devotees. One of the popular devotional hymns dedicated to Lord Ganesha is the Ganesh Chalisa. In this article, we will explore the origin, significance, devotional practices, benefits, and variations of the Ganesh Chalisa.
Ganesh Chalisa Lyrics
॥ Doha ॥
Jaya Ganapati Sadhguna Sadana,Kavi Vara Badana Kripaala।
Vighna Harana Mangala Karana,Jaya Jaya Girijaa Laala॥
॥ Chaupai ॥
Jaya Jaya Ganapati Gan Raaju।Mangala Bharana Karana Shubha Kaaju ॥ 1 ॥
Jaya Gajabadana Sadana Sukhadaataa।Vishva Vinaayaka Buddhi Vidhaata ॥ 2 ॥
Vakra Tunda Shuchi Shunda Suhaavana।Tilaka Tripunda Bhaala Mana Bhaavana ॥ 3 ॥
Raajata Mani Muktana Ura Maala।Svarna Mukuta Shira Nayana Vishaala ॥ 4 ॥
Pustaka Paani Kuthaara Trishoolam।Modaka Bhoga Sugandhita Phoolam ॥ 5 ॥
Sundara Pitaambara Tana Saajita।Charana Paaduka Muni Mana Raajita ॥ 6 ॥
Dhani Shiva Suvana Shadaanana Bhraata।Gauri Lalana Vishva-Vidhaata ॥ 7 ॥
Riddhi Siddhi Tava Chanvara Sudhaare।Mushaka Vaahana Sohata Dvaare ॥ 8 ॥
Kahaun Janma Shubha Kathaa Tumhaari।Ati Shuchi Paavana Mangala Kaari ॥ 9 ॥
Eka Samaya Giriraaj Kumaari।Putra Hetu Tapa Kinha Bhaari ॥ 10 ॥
Bhayo Yagya Jaba Poorna Anoopa।Taba Pahunchyo Tuma Dhari Dvija Roopa ॥ 11 ॥
Atithi Jaani Kai Gauri Sukhaari।Bahuvidhi Sevaa Kari Tumhaari ॥ 12 ॥
Ati Prasanna Hvai Tuma Vara Dinha।Maatu Putra Hita Jo Tapa Kinha ॥ 13 ॥
Milahi Putra Tuhi Buddhi Vishaala।Binaa Garbha Dhaarana Yahi Kaala ॥ 14 ॥
Gananaayaka, Guna Gyaana Nidhaana।Poojita Prathama Roopa Bhagavana ॥ 15 ॥
Asa Kahi Antardhyaana Roopa Hvai।Palana Para Baalaka Svaroopa Hvai ॥ 16 ॥
Bani Shishu Rudana Jabahi Tuma Thaana।Lakhi Mukha Sukha Nahin Gauri Samaan ॥ 17 ॥
Sakala Magana, Sukha Mangala Gaavahin।Nabha Te Surana Sumana Varshaavahin ॥ 18 ॥
Shambhu Uma, Bahu Dana Lutavahin।Sura Munijana, Suta Dekhana Aavahin ॥ 19 ॥
Lakhi Ati Aananda Mangala Saaja।Dekhana Bhi Aaye Shani Raaja ॥ 20 ॥
Nija Avaguna Guni Shani Mana Maahin।Baalaka, Dekhan Chaahata Naahin ॥ 21 ॥
Giraja Kachhu Mana Bheda Badhaayo।Utsava Mora Na Shani Tuhi Bhaayo ॥ 22 ॥
Kahana Lage Shani, Mana Sakuchaai।Kaa Karihau, Shishu Mohi Dikhaai ॥ 23 ॥
Nahin Vishvaasa, Uma Ur Bhayau।Shani So Baalaka Dekhana Kahyau ॥ 24 ॥
Padatahin, Shani Driga Kona Prakaasha।Baalaka Shira Udi Gayo Aakaasha ॥ 25 ॥
Giraja Girin Vikala Hvai Dharani।So Dukha Dasha Gayo Nahin Varani ॥ 26 ॥
Haahaakaara Machyo Kailaasha।Shani Kinhyon Lakhi Suta Ka Naasha ॥ 27 ॥
Turata Garuda Chadhi Vishnu Sidhaaye।Kaati Chakra So Gaja Shira Laaye ॥ 28 ॥
Baalaka Ke Dhada Upara Dhaarayo।Praana, Mantra Padha Shankara Darayo ॥ 29 ॥
Naama 'Ganesha' Shambhu Taba Kinhe।Prathama Poojya Buddhi Nidhi, Vara Dinhe ॥ 30 ॥
Buddhi Pariksha Jaba Shiva Kinha।Prithvi Kar Pradakshina Linha ॥ 31 ॥
Chale Shadaanana, Bharami Bhulaii।Rachi Baitha Tuma Buddhi Upaai ॥ 32 ॥
Charana Maatu-Pitu Ke Dhara Linhen।Tinake Saata Pradakshina Kinhen ॥ 33 ॥
Dhani Ganesha, Kahi Shiva Hiya Harashe।Nabha Te Surana Sumana Bahu Barase ॥ 34 ॥
Tumhari Mahima Buddhi Badaye।Shesha Sahasa Mukha Sakai Na Gaai ॥ 35 ॥
Mein Mati Hina Malina Dukhaari।Karahun Kauna Vidhi Vinaya Tumhaari ॥ 36 ॥
Bhajata 'Raamasundara' Prabhudaasa।Lakha Prayaga, Kakara, Durvasa ॥ 37 ॥
Aba Prabhu Daya Dina Para Kijai।Apani Bhakti Shakti Kuchhu Dijai ॥ 38 ॥
॥ Doha ॥
Shri Ganesh Yah Chalisa,Path Karai Dhari Dhyan।
Nit Nav Mangal Gruha Bashe,Lahi Jagat Sanman॥
Sambandh Apne Sahstra Dash,Rushi Panchami Dinesh।
Puran Chalisa Bhayo,Mangal Murti Ganesha॥
Ganesh Chalisa Lyrics in PDF
Ganesh Chalisa Lyrics Image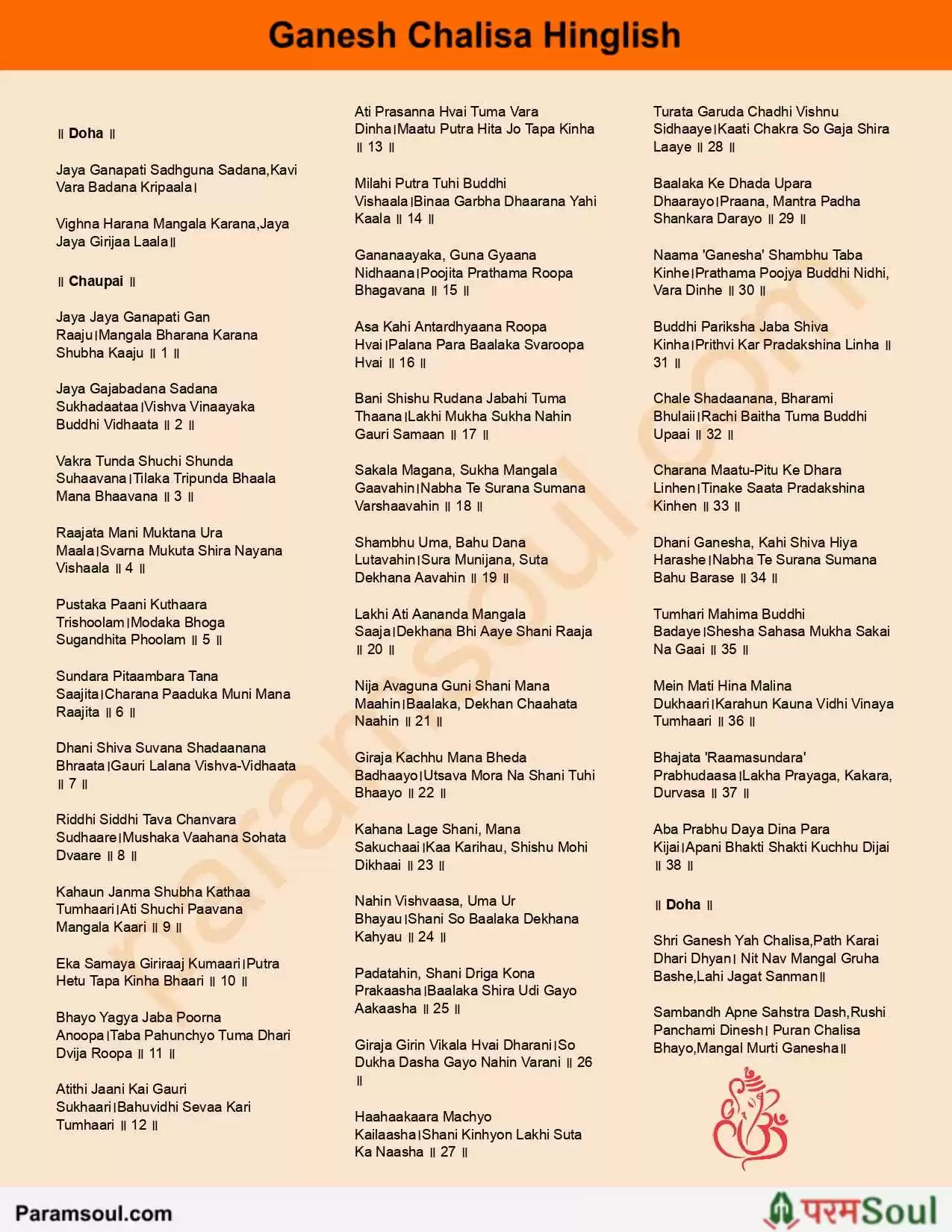 Table of Contents
What is Ganesh Chalisa?
The Ganesh Chalisa is a forty-verse devotional hymn composed in the Hindi language. It is recited or chanted by devotees as a way to invoke the blessings of Lord Ganesha. The word "Chalisa" translates to "forty" in Hindi, signifying the number of verses in the hymn. Each verse praises the various aspects and qualities of Lord Ganesha, highlighting his divine attributes.
Origin and Significance
The origin of the Ganesh Chalisa can be traced back to ancient times when saints and poets composed devotional verses to express their reverence for the deities. The exact originator of the Ganesh Chalisa is RamSunder Prabhu Das, but it is believed to have been popularized by the saint Tulsidas in his famous work, the "Goswami Tulsidas Ram Charit Manas." The hymn gained popularity due to its simplicity, melodious composition, and profound spiritual essence.
The Ganesh Chalisa holds immense significance in Hindu culture and is recited during various religious ceremonies, festivals, and personal prayers. It is believed that chanting or reciting the Chalisa with utmost devotion can help individuals attain spiritual awakening, seek divine guidance, and receive the blessings of Lord Ganesha.
Structure and Composition
The Ganesh Chalisa follows a structured composition with each verse consisting of four lines. The hymn is composed in the Awadhi language, a dialect of Hindi, making it accessible to a wide range of devotees. The rhyming pattern and rhythmic flow of the verses add to its lyrical beauty, making it a joy to recite or chant.
Each verse of the Ganesh Chalisa emphasizes different aspects of Lord Ganesha's divine persona, such as his elephant-like form, his wisdom, and his ability to remove obstacles. The hymn beautifully encapsulates the essence of Lord Ganesha's qualities, invoking a sense of devotion and reverence in the hearts of the devotees.
Devotional Practices
Devotees engage in various devotional practices related to the Ganesh Chalisa to establish a deeper connection with Lord Ganesha and seek his blessings. Some of these practices include:
Chanting the Chalisa
Chanting the Ganesh Chalisa is a common practice among devotees. The repetitive recitation of the verses creates a meditative ambiance, allowing individuals to immerse themselves in the divine energy of Lord Ganesha. Chanting the Chalisa is believed to purify the mind, elevate spiritual consciousness, and attract positive vibrations.
Reciting the Chalisa
Apart from chanting, many devotees recite the Ganesh Chalisa as part of their daily prayers or special occasions. Reciting the verses with heartfelt devotion and understanding their meaning deepens the spiritual connection with Lord Ganesha. It serves as a means to express gratitude, seek guidance, and surrender to the divine will.
Offering Prayers
Devotees often offer prayers to Lord Ganesha while reciting the Chalisa. They light incense sticks, offer flowers, and perform aarti (a ritual of waving a lamp) as symbols of devotion. These practices enhance the overall spiritual experience and create a sacred environment that invites the presence of Lord Ganesha.
Benefits and Blessings
The Ganesh Chalisa is believed to bestow numerous benefits and blessings upon its sincere reciters. Some of the significant blessings associated with the Chalisa include:
Spiritual Protection
Chanting or reciting the Ganesh Chalisa with faith and devotion is said to provide spiritual protection. Lord Ganesha's divine presence guards devotees against negative influences, evil spirits, and internal conflicts. It instills a sense of inner peace, clarity, and strength on the spiritual journey.
Removal of Obstacles
Lord Ganesha is revered as the remover of obstacles, and the Ganesh Chalisa is a powerful tool in seeking his intervention. Reciting the Chalisa with sincerity and surrender helps overcome challenges, hindrances, and hurdles in life. It is believed to pave the way for success, prosperity, and harmonious relationships.
Fulfillment of Desires
The Ganesh Chalisa is also associated with the fulfillment of desires. Devotees believe that by offering prayers and reciting the Chalisa, Lord Ganesha blesses them with the realization of their heartfelt wishes. It cultivates a positive mindset, aligns one's intentions with divine will, and brings about favorable outcomes.
Popular Versions and Variations
Over time, various versions and variations of the Ganesh Chalisa have emerged. These versions may differ in the choice of words, poetic structure, or additional verses praising Lord Ganesha. Some versions incorporate regional dialects or languages to cater to the linguistic diversity of devotees. Despite these variations, the core essence and devotion towards Lord Ganesha remain unchanged.
Conclusion
The Ganesh Chalisa is a profound devotional hymn that encapsulates the divine qualities and blessings of Lord Ganesha. Through its verses, devotees seek the removal of obstacles, spiritual protection, and fulfillment of their desires. Chanting or reciting the Chalisa with utmost devotion establishes a deep connection with Lord Ganesha and invites his divine presence into one's life.
FAQ
Can anyone recite the Ganesh Chalisa?
Yes, the Ganesh Chalisa can be recited by anyone, irrespective of their age, gender, or religious background. It is open to all who seek the blessings and guidance of Lord Ganesha.
How many times should one recite the Ganesh Chalisa?
There is no fixed number of times to recite the Ganesh Chalisa. It is a personal choice based on one's devotion and time availability. Some devotees recite it once a day, while others may recite it multiple times or during specific occasions.
Can reciting the Ganesh Chalisa fulfill material desires?
While the Ganesh Chalisa is known to fulfill desires, it is important to approach it with the right mindset. Devotees are encouraged to focus on spiritual growth, self-improvement, and surrendering to divine will rather than solely seeking material gains.
Are there any specific rituals associated with reciting the Ganesh Chalisa?
There are no specific rituals associated with reciting the Ganesh Chalisa. However, some devotees prefer to maintain cleanliness, light incense, and offer prayers while reciting the hymn to create a sacred atmosphere.
Can listening to the Ganesh Chalisa have the same benefits as reciting it?
Yes, listening to the Ganesh Chalisa with devotion can also have spiritual benefits. The vibrations and the divine energy present in the recitation can positively impact the listener's mind, body, and soul.
How may verses in Ganesh Chalisa?
Its sound chalisa means 40, but 38 verses in Ganesh chalisa.