Laxmi Chalisa, a revered devotional hymn, holds great significance in Hindu culture. Dedicated to Goddess Laxmi, the embodiment of wealth, prosperity, and abundance, Lakshmi Chalisa is recited by millions of devotees worldwide. This article delves into the historical background, structure, chanting practices, and spiritual benefits associated with Laxmi Chalisa (See also Ganesh Chalisa).
Laxmi Chalisa lyrics
॥ Doha ॥
Maatu Lakshmi Kari Kripa, Hridaya Mein Vaas।
Manokamna Siddha Kari, Paruvahu Meri Aas॥
॥ Sortha ॥
Yahi Mor Ardas,Hath Jod Vinati karun।
Sab Vidhi Karau Suvas, Jai Janani Jagadambika।
॥ Chaupai ॥
Sindhu suta Main Sumirun Tohi
Gyan Budhi Vidya do mohi || 1 ||
Tum saman nahin koi upkaari
Sab Vidhi purvahh aas hamari || 2 ||
Jai Jai Jai Janani Jagdamba
Sabki tum he ho avlamba || 3 ||
Tum ho sab ghat ghat ki vasi
Vinti yahi hamari khasi || 4 ||
Jag janani jai sindhu kumari
Deenan ki tum ho hitkari || 5 ||
Binvo nit tum maharani
Kripa karo jag-janani bhawani || 6 ||
Kehi vidhi astuti karoon tihari
Sudhi leejay apradh bisari || 7 ||
Kripa drishti chitvo mum ori
Jag janani vinti sun mori || 8 ||
Gyan budhi sab sukh kee data
Sankat haro hamari mata || 9 ||
Ksheer sindhu jab Vishnu mathayo
Chaudah ratna sindhu may payo || 10 ||
Chaudah rattan me tum sukh rasi
Seva kiyo prabhu ban dasi || 11 ||
Jo jo janam prabhu jahan leenha
Roop badal tahan seva keena || 12 ||
Svayam Vishnu jab nar tanu dhara
Leenyo avadhpuri avatara || 13 ||
Tab tum prakat janakpur manhee
Seva kiyo hriday pulkahi || 14 ||
Apnayo tohi antaryami
Vishwa vidhit tribhuvan ke swami || 15 ||
Tum sam prabal shakti nahin aani
Kahnlau mahima kaho bakhani || 16 ||
Man kram vachan karay sevakayee
Man ichhit vanchit phal payee || 17||
Taji chal kapat aur chaturayee
Pujahee Vividh bhaanti man lai || 18 ||
Aur hal mai kahoum bjhuyayee
Jo yeh path karay mun layee || 19 ||
Ta ko koee kasht na hoyee
Mun icchit vanchhit phal payee || 20 ||
Trahi trahi jai dhukh nivarini
Taapbhav bandhan haranee || 21 ||
Jo yah padhey aur padhavay
Dhyan laga kar suney sunavay || 22 ||
Tako koi rog na satavey
Puttarad dhan sampatti pavey || 23 ||
Puttarheen aru sampatiheena
Andha vadhr koree ati deena || 24 ||
Vippra bolayay key path kara
Shanka dil mein kabhi na lavai || 25 ||
Path karavay din chalisa
Tapar kripa karein gaurisha || 26 ||
Sukh sampati bahut see pavay
Kami nahi kaho kea aaway || 27 ||
Barah maas karai jo puja
Taihi sam dhanya aur nahi duja || 28 ||
Pratidin path karaai man mahi
Un sum koi jag main kahun nahi || 29 ||
Bahu vidhii kya main karoon barayee
Lay pariksha dhyan lagayee || 30 ||
Kari vishvas karaye vrat ma
Hoya siddh upjai ur prema || 31 ||
Jai jai jai lakshmi bhawani
Sab main vyapit ho gunkhani || 32 ||
Tumharo tej prabal jag mahi
Tum sam kohoo dayal kohu nahee || 33 ||
Mohi anath ki sudhi ab leejai
Sankat kaati bhakti mohi deejay || 34 ||
Bhool chook kari kshama hamari
Darshan deejay dasha nihari || 35 ||
Bin darshan vyakul adhikari
Tumhi achchat dukh sahtay bhari || 36 ||
Nahin mohihn gyan buddhi hai man mein
Sab janat ho apney man main || 37 ||
Roop chaturbhuj karkey dharan
Kasht moor ab karhu nivaran || 38 ||
Kehi prakar main karoo barayee
Gyan buddhi mohi nahi adhikaji || 39 ||
Ramdas ab kahayi pukari
Karo duur tum vipati hamari || 40 ||
॥ Doha ॥
Trahi Trahi Dukh Harini, Haro Vegi Sab Tras।
Jayati Jayati Jai Lakshmi, Karo Shatru Ko Naash॥
Ramdas Dhari Dhyan Nit,Vinay Karat Kar Jor।
Maatu Lakshmi Daas Par, Karahu Daya Ki Kor॥
Laxmi Chalisa Lyrics in PDF
Lakshmi Chalisa Lyrics Image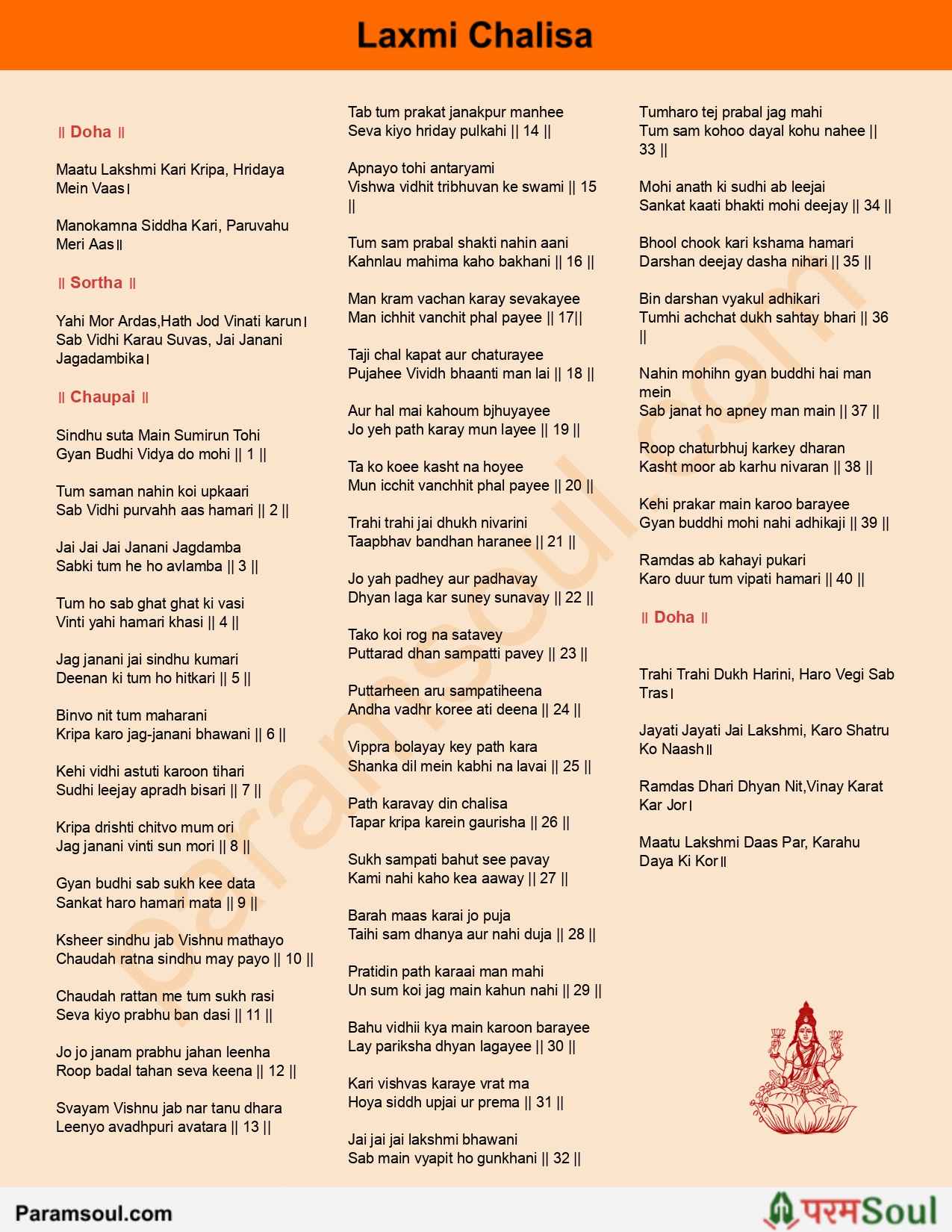 Table of Contents
About Laxmi Chalisa
Here, the word "Lakshmi Chalisa" is joined to two words: "Lakshmi" and "Chalisa." In Hinduism, "Lakshmi" refers to the goddess of wealth, prosperity, and abundance, while "Chalisa" means "forty" in Hindi. Hence, Lakshmi Chalisa can be understood as a devotional hymn consisting of 40 verses dedicated to Maa Lakshmi.
The purpose of Laxmi Chalisa is to express devotion, seek blessings, and invoke the divine presence of Goddess Lakshmi. The hymn praises and glorifies the various attributes, qualities, and virtues associated with the goddess. It acts as a means to establish a spiritual connection with Goddess Laxmi and seek her blessings for material and spiritual well-being.
The Significance of Laxmi Chalisa
Laxmi Chalisa is considered a powerful prayer to seek the blessings of Goddess Lakshmi. It is believed to bestow devotees with wealth, success, and overall prosperity. By reciting the Chalisa, devotees express their devotion and gratitude towards the goddess, seeking her divine intervention in their lives.
Historical Background of Laxmi Chalisa
Lakshmi Chalisa finds its roots in ancient Hindu scriptures and mythology. Shri Lakshmi Chalisa composed by Ramdas ji has total forty verses, all these verses are dedicated to Lakshmi ji, the goddess of wealth. The hymn glorifies the various virtues and attributes of Goddess Lakshmi and narrates her significance in the Hindu pantheon.
The Structure and Verses of Lakshmi Chalisa
The Structure of Laxmi Chalisa
Lakshmi Chalisa is structured in forty verses, each crafted with utmost devotion and poetic beauty. It follows a rhythmic pattern, allowing for a seamless flow of words and emotions. The hymn is often recited in a group or individually, as per one's preference and convenience.
The Verses of Lakshmi Chalisa
The verses of Lakshmi Chalisa are rich in spiritual wisdom and invoke the blessings of Goddess Lakshmi. Each verse portrays a unique aspect of the goddess, highlighting her divine qualities and the positive impact she brings to the lives of her devotees. The melodic recitation of these verses creates a harmonious atmosphere filled with positive vibrations.
Chanting Lakshmi Chalisa for Prosperity and Abundance
Benefits of Chanting Laxmi Chalisa
Chanting Laxmi Chalisa is believed to attract prosperity, abundance, and good fortune. It helps to remove financial obstacles, bestow wealth, and bring overall material and spiritual well-being. Regular recitation of the hymn is said to invoke the blessings of Goddess Laxmi and create a positive aura of prosperity in one's life.
Procedure for Chanting Laxmi Chalisa
To chant Lakshmi Chalisa, one must find a peaceful and serene environment. Sitting in a comfortable posture, devotees can light incense sticks or lamps, symbolizing purity and devotion. With a focused mind and a heart filled with reverence, one can begin the recitation of Lakshmi Chalisa, slowly and melodically. It is recommended to chant the Chalisa with faith and sincerity, allowing the words to resonate deeply within. (See fast chanting)
Devotional Practices and Rituals Associated with Laxmi Chalisa
Laxmi Chalisa in Hindu Temples
Laxmi Chalisa holds a prominent place in Hindu temples dedicated to Goddess Laxmi. Devotees visit these temples to seek the blessings of the goddess and recite the Chalisa as an act of devotion. The collective chanting of Laxmi Chalisa in temples creates a powerful spiritual ambiance, intensifying the connection between the devotee and the deity.
Festivals and Celebrations related to Laxmi Chalisa
During festive occasions like Diwali, the festival of lights, devotees gather together to sing Lakshmi Chalisa as a part of their celebratory rituals. The hymn is considered auspicious and is believed to invoke the presence of Goddess Lakshmi, bringing joy, prosperity, and happiness to their lives.
Laxmi Chalisa and its Impact on Spiritual Well-being
Enhancing Inner Peace and Serenity
Chanting Lakshmi Chalisa has a profound impact on one's spiritual well-being. The melodious verses, combined with the devotional intent, help to calm the mind, reduce stress, and bring inner peace. It creates a deep connection with the divine energy of Goddess Laxmi, instilling a sense of tranquility and serenity in the practitioner.
Awakening Divine Feminine Energy
Laxmi Chalisa is a powerful medium to awaken and connect with the divine feminine energy present within oneself. By reciting the hymn, individuals can tap into their inner strength, creativity, and intuition. It nurtures qualities like compassion, love, and abundance, leading to holistic personal growth and spiritual evolution.
Laxmi Chalisa: A Source of Inspiration and Guidance
Overcoming Obstacles and Challenges
Lakshmi Chalisa acts as a guiding light for devotees during challenging times. By invoking the blessings of Goddess Laxmi through the recitation of the hymn, individuals find the strength and resilience to overcome obstacles and adversities in their lives. It instills a positive mindset, fostering determination, and inspiring them to achieve their goals.
Nurturing Gratitude and Contentment
The practice of Lakshmi Chalisa cultivates gratitude and contentment in the hearts of devotees. By acknowledging the abundance present in their lives, individuals develop a deep sense of appreciation for what they have. This mindset shift promotes a more fulfilling and joyful existence, enhancing their overall well-being.
Conclusion
Laxmi Chalisa, a powerful devotional hymn, serves as a pathway to connect with the divine energy of Goddess Laxmi. The recitation of this sacred hymn brings prosperity, abundance, and spiritual well-being to the lives of devotees. By incorporating Lakshmi Chalisa into their daily practices, individuals can nurture gratitude, overcome challenges, and awaken their inner potential. Embrace the power of Lakshmi Chalisa and invite the blessings of Goddess Lakshmi into your life.
Overall, Laxmi Chalisa is a powerful devotional tool that holds deep meaning for devotees who seek the grace and abundance of Goddess Lakshmi in their lives.
FAQ
Can anyone recite Laxmi Chalisa?
Yes, anyone can recite Lakshmi Chalisa. It is open to people of all ages and backgrounds, irrespective of gender or religious affiliation.
How many times should Laxmi Chalisa be recited?
There is no specific rule regarding the number of times Lakshmi Chalisa should be recited. It depends on individual preferences and time availability. However, regularity and sincerity in recitation are recommended for maximum benefits.
Can non-Hindus recite Lakshmi Chalisa?
Yes, non-Hindus can recite Lakshmi Chalisa if they resonate with its teachings and have faith in the power of Goddess Laxmi.
Are there any specific timings to recite Laxmi Chalisa?
While there are no strict timings, it is considered auspicious to recite Laxmi Chalisa during early mornings or evenings. However, one can chant it at any time according to their convenience.
Apart from recitation, are there any other ways to connect with Goddess Laxmi?
Yes, apart from recitation, one can connect with Goddess Laxmi through acts of kindness, charity, and gratitude. Maintaining a positive mindset, helping others, and practicing generosity are ways to invoke her blessings.
Who wrote the Lakshmi (Laxmi) Chalisa?
Goddess Lakshmi Chalisa composed by Ramdas ji has a total of forty verses, all these verses are dedicated to Lakshmi ji, the goddess of wealth.