Aarti, a hymn of devotion, resonates with the intent of praising and invoking divine blessings upon a deity. Among the esteemed aartis, we encounter the "Santoshi Aarti," a fervent tribute to the benevolent Santoshi Maa – an incarnation of the Mother Goddess, encompassing attributes of love, contentment, and fulfillment. This composition endeavors to explore the genesis, significance, and the intricate process entailed in performing the Santoshi Aarti, offering a profound glimpse into the spiritual fervor it engenders within the hearts of its ardent devotees. (See संतोषी आरती in hindi)
Santoshi Mata ki aarti English Lyrics
॥ Santoshi Maa Aarti ॥
Jai Santoshi Mata, Maiya Santoshi Mata।
Apne Sewak Jan Ki, Sukh Sampati Data॥
Sundar Chir Sunahri, Maa Dharan Kinhon।
Hira Pana Damke, Tan Shringar Linyoh॥
Jai Santoshi Mata ॥
Geru Lal Chhata Chhavi, Badan Kamal Sohe।
Mand Hansat Karunamayi, Tribhuvan Jan Mohe॥
Jai Santoshi Mata ॥
Swarna Sinhasan Baithi, Chanvar Dhure Pyare।
Dhup, Deep, Madhu, Mewa, Bhog Dhare Nyare॥
Jai Santoshi Mata ॥
Gud Aur Chana Param Priya, Tamen Santosh Kiyo।
Santoshi Kahlai, Bhaktan Vaibhav Diyo॥
Jai Santoshi Mata॥
Shukrawar Priya Manat, Aaj Divas Sohi।
Bhakti Mandali Chhai, Katha Sunat Mohi॥
Jai Santoshi Mata ॥
Mandir Jag Mag Jyoti, Mangal Dhwani Chhai।
Vinai Kare ham Sewak, Charnan Sir Nai॥
Jai Santoshi Mata ॥
Bhakti Bhawmai, Puja Angikrit Kijai।
Jo Man Vasai Hamare, Ichhit Phal Dijai॥
Jai Santoshi Mata ॥
Dukh Daridri Raug, Sankat Mukt Kijai।
bahu Dhan Dhany Bhare Ghar, Sukh Saubhagya Keejai॥
Jai Santoshi Mata ॥
Dhyan Dhare Jo Tera, Manvanchhit Phal Payo।
Puja Katha Shravan Kar, Ghar Anand Aayo॥
Jai Santoshi Mata ॥
Charan Gahe Ki Lajja, Rakhiyo Jagdambe।
Sankat Tu Hi Niware, Dayamayi Ambe॥
Jai Santoshi Mata ॥
Santoshi Mata Ki Aarti, Jo Koi Jan Gavai।
Riddhi-siddhi Sukh Sampati, Ji Bhar Ke Pavai॥
Jai Santoshi Mata ॥
Jai Santoshi Mata, Maiya Jai Santoshi Mata।
Apne Sewak Jan Ki, Sukh Sampati Data॥
Jai Santoshi Mata ॥
Santoshi Maa ki Aarti Lyrics in English PDF
Santoshi Aarti Lyrics in English Image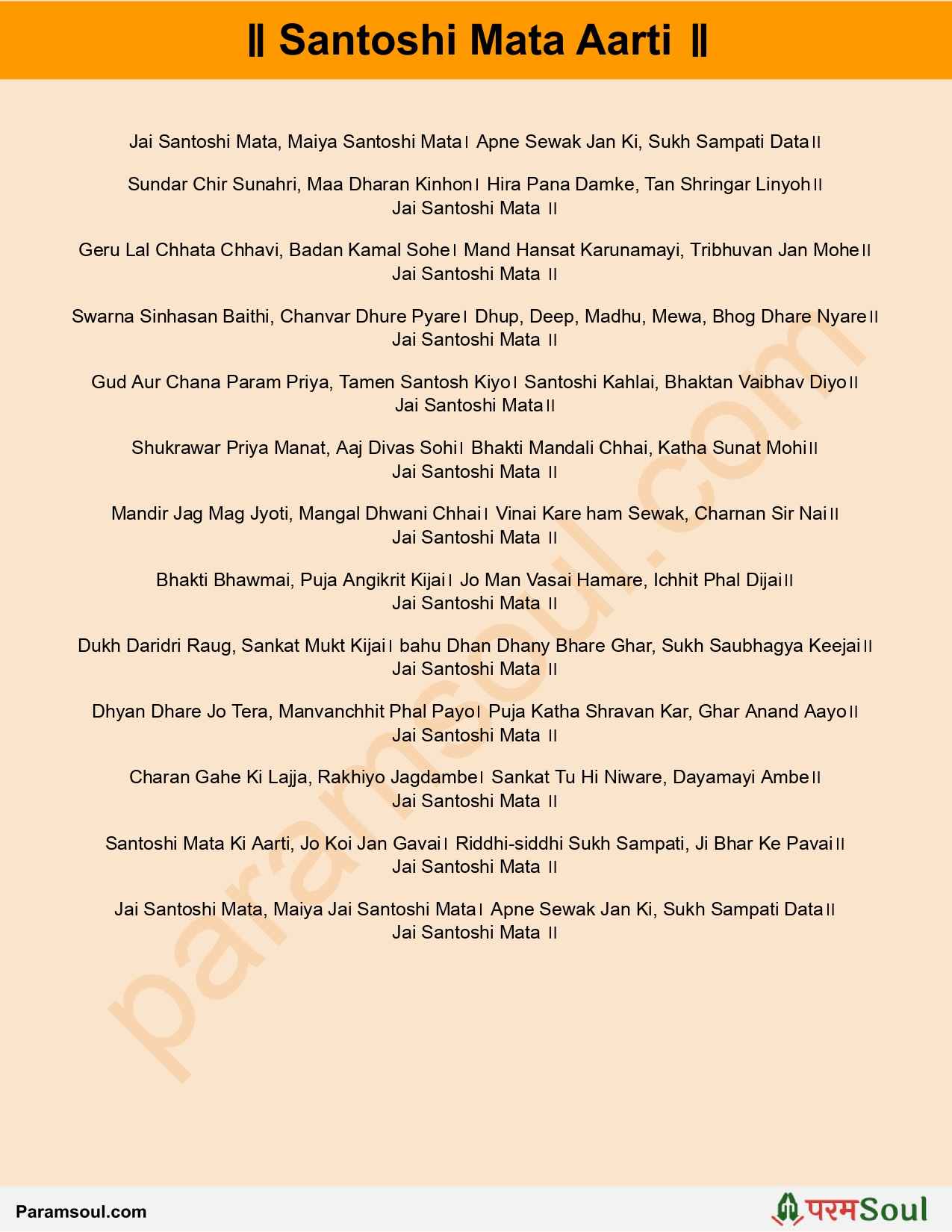 Maa Santoshi Aarti Lyrics Audio/Video
Table of Contents
Understanding Santoshi Maa: The Goddess of Contentment
Santoshi Maa is revered as the Goddess of Contentment and Happiness. She is often depicted as a benevolent and compassionate deity, showering her devotees with blessings and fulfilling their wishes. Her devotees believe that worshipping her with sincerity and devotion brings joy, peace, and prosperity to their lives.
Significance of Santoshi Aarti
The Santoshi Aarti serves as a medium for devotees to express their gratitude and seek blessings from the goddess. By singing the aarti, devotees demonstrate their love and unwavering faith in Santoshi Maa. It is also believed to dispel negativity and bring positivity to the surroundings.
The Ritual of Santoshi Aarti
The process of performing the Santoshi Aarti is relatively simple, yet spiritually enriching. Devotees light incense sticks, known as agarbattis, and illuminate the area with diyas (oil lamps). They then offer fresh flowers and sweets as a symbol of devotion and appreciation. The aarti is sung with great enthusiasm and fervor, filling the atmosphere with devotion and positive energy.
The Universal Appeal of Santoshi Maa Aarti
The Santoshi Aarti transcends regional and cultural boundaries, attracting devotees from different walks of life. Its universal appeal lies in its simplicity and the message of finding contentment and joy in life's simple pleasures. People from all ages and backgrounds come together to immerse themselves in the divine aura of the aarti.
Conclusion
In conclusion, the Santoshi Aarti stands as a profound testimony to the devotion and reverence that millions of devotees have for Santoshi Maa. This simple yet powerful act of worship is a source of immense joy, contentment, and spiritual growth. Through the Santoshi Aarti, devotees find a divine connection and an opportunity to embrace a life filled with love, happiness, and fulfillment.
FAQ's
Is Santoshi Mata Aarti only for women?
No, Santoshi Aarti is for everyone, regardless of gender. Devotees from all walks of life participate in this auspicious ritual.
When is the best time to perform Santoshi Aarti?
Although devotees can perform the aarti at any time, it is considered especially auspicious to do so on Fridays and during festivals dedicated to Santoshi Maa.
Can Santoshi Aarti help in times of distress?
Highlight the comforting and empowering aspects of chanting the aarti during challenging times.