In the sacred realm of Hinduism, the divinity of Mother Goddess is revered and celebrated through various hymns and prayers. One such devotional expression is the "Santoshi Chalisa," a poetic composition that encapsulates the essence of devotion and faith in the benevolent Maa Santoshi. See संतोषी चालीसा हिंदी.
Santoshi Maa Chalisa Lyrics English
॥ Doha ॥
Bando Santoshi Charan, Riddhi Siddhi Datar ।
Dhyan Dharat He Hott Nar, Dukh Sagar Se Paar ॥
Bhaktan Ko Santosh De, Santoshi tav Nama ।
Jagdamba Aab, Aaya Tere Dham ॥
॥ Chopai ॥
Jai santoshi maat anupam । Shanti daayani roop manoram ॥1॥
Sundar varan chaturbhuj rupa । Vaish manohar lalit anupa ॥2॥
Shwetambar roop manhaari । Maa! tumhari chavi jag se nayari ॥3॥
Divy swarup aayat lochan । Darshan se ho sankat mochan ॥4॥
Jai ganesh ki suta bhavani । Ridhi sidhi ki putri gyani ॥5॥
Aagam aagochar tumhari maya । Sab par karo kripa ki chaya ॥6॥
Naam aanek tumharo mata । Aakhil vishv hai tumko dhayata ॥7॥
Tumne roop aaneko dhare । Ko kahi sake charitra tumhare ॥8॥
Dham aanek kahan tak kahiye । Sumiran tab karke sukh lehiye ॥9॥
Vindiyachal mai vindiyavasini । Koteshwar saraswati suhasini ॥10॥
Kalkate mai tu hi kali । Dusht nashini mahakarali ॥11॥
Samhal pur bahuchara kahati । Bhaktjano ka dukh mitati ॥12॥
Jwala ji mai jwala devi । Pujat nitay bhakt jan savi ॥13॥
Nagar bambai ki maharani । Maha Lakshmi tum kalyani ॥14॥
Madura mai meenakshi tum ho । Sukh-dukh sabki sakshi tum ho ॥15॥
Rajnagar mai tum jagdambay । Banee bhradkali tum ambe ॥16॥
Pavagadh mai durga mata । Akhil Vishav tera yash gatta ॥17॥
Kashi puradhishwari mata ॥ Aaanpurna naam suhata ॥18॥
Sarwanand karo kaliyani ॥ Tumhi sharda amrit vani ॥19॥
Tumhari mahima jal mai thal mai ॥ Dukh darid sab meto pal mai ॥20॥
Jete risiwar aur munisha ॥ Narad dev aur devesha ॥21॥
Es jagati ke nar aur nari ॥ Dhayan dharat hai maat tumhari ॥22॥
Japar kripa tumhari hoti ॥ Veh patta bhakti ka moti ॥23॥
Dukh darid sankat mit jata ॥ Dhayan tumhara jo jan dhayata ॥24॥
Jo jan tumhari mahima gave ॥ Dhayan tumhara kar such pave ॥25॥
Jo maan rakhe sudh bhavana ॥ Taki puran karo kamna ॥26॥
Kumti nivari sumati ki datri ॥ Jayati Jayati Mata Jagdhatri ॥27॥
Sukarwar ka diwas suhavan । Jo vart kare tumhara paven ॥28॥
Guud chole ka bhog lagave । Katha tumhari sune sunnave ॥29॥
Vidhivat puja kare tumhari । Phir Prasad pave subhkari ॥30॥
Shakti samrath ho jo dhan ko । Dan dakshina de vipran ko ॥31॥
Ve jagti ke nar aur nari । Maanvanchit phal pave bhari ॥32॥
Jo jan sharan tumhari jave । So nishchaye bhav se tar jave ॥33॥
Tumharo dyan kumari dhayave । Nishchaye maanvanchit var pave ॥34॥
Sadhva pooja kare tuhari । Amar suhagin ho wo nari ॥35॥
Vidhva dhar ke dhyan tumhara । Bhavsagar se utre para ॥36॥
Jayati jayati jai sankat harni । Vidhan vinashan mangal karni ॥37॥
Hum par sankat hai aati bhari । Vegi khabar lo maat hamari ॥38॥
Nishidin dhayan tumharo dhayta । Dehi bhakti var hum ko mata ॥39॥
Yeh chalisa jo nit gave । So bhavsagar se tar jave ॥40॥
॥ Doha ॥
santoshi maan ke sada bandahun pag nish vas ।
purṇ manorath ho sakal maat harow bhav traas ॥
Santoshi Chalisa Lyrics in English PDF
Santoshi Chalisa Lyrics in English Image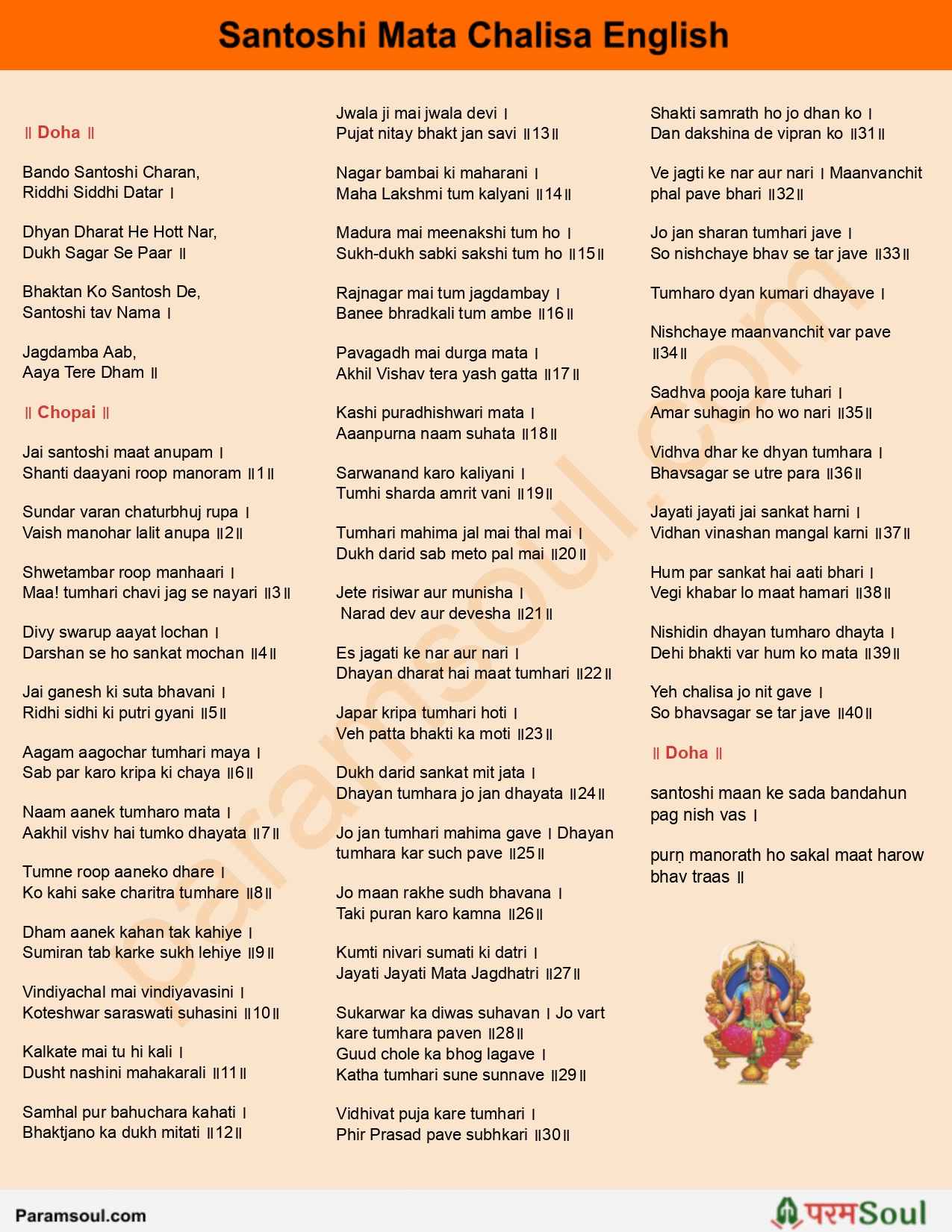 Santoshi Maa Chalisa Audio-Video
Table of Contents
Introduction to Santoshi Chalisa
Santoshi Chalisa is a devotional hymn dedicated to Goddess Santoshi, an embodiment of love, contentment, and compassion. It originated in India and holds deep cultural and spiritual roots. Chalisa, derived from the Hindi word "chalis," meaning forty, comprises forty verses that praise and venerate the Goddess.
Understanding the Chalisa's Verses
Each verse of the Santoshi Maa Chalisa carries profound meaning and symbolism, invoking the various aspects of the Divine Maa. The verses depict the goddess as the embodiment of compassion, love, and strength, inspiring devotees to navigate life's challenges with unwavering faith.
Significance of Chanting Santoshi Chalisa
Chanting the Santoshi Chalisa is believed to bestow immense blessings upon devotees. It is considered a powerful tool to overcome obstacles, attain prosperity, and find solace in times of distress. The rhythmic recitation of the Chalisa creates an aura of positivity and spiritual upliftment.
The Influence on Daily Life
The teachings of Santoshi Chalisa extend beyond the confines of religious rituals. They find a practical application in the devotees' daily lives, inspiring them to lead a life of righteousness, empathy, and humility.
A Source of Inner Peace
In the chaotic and fast-paced world, reciting the Santoshi Chalisa offers a moment of tranquility and inner peace. The emotional connection with the Divine Mother provides solace and strength to cope with the challenges of life.
The Boundless Love of Maa Santoshi
The Santoshi Chalisa encapsulates the boundless love and grace of Maa Santoshi, who, like a caring mother, nurtures her children and protects them from harm. This divine love inspires devotees to lead a life filled with compassion and selflessness.
Conclusion: Surrendering to the Divine Maa's Embrace
In the heart of Santoshi Chalisa lies the profound message of surrendering to the Divine Mother's embrace, finding solace, love, and guidance. With devotion and faith as our pillars, we embark on a transformative journey, knowing that the benevolent Mother Santoshi is always by our side, guiding us through the ups and downs of life.
FAQs (Frequently Asked Questions)
Is Santoshi Chalisa only for Hindus?
Santoshi Maa holds universal appeal and can be embraced by people of all backgrounds and beliefs. It transcends religious boundaries.
How often should I chant Santoshi Chalisa?
The frequency of chanting Santoshi Chalisa can vary based on personal preference. Some devotees chant it daily, while others may do it on specific occasions, Friday or festivals.
Are there any specific rules for chanting Santoshi Chalisa?
While there are no strict rules, chanting with a clean heart and mind, in a peaceful setting, can enhance the effectiveness of the practice.